You can't go wrong if you are serving chocolate chip cookies warm and straight from the oven! Gooey chocolate, crunchy hazelnuts and a nice hit of salt on top… a winner!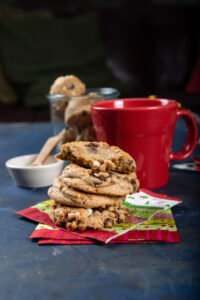 1 c. unsalted butter, room
temperature
1¼ c. dark brown sugar
½ c. granulated or cane sugar
2 eggs
2 tsp. vanilla extract
3 c. flour, all-purpose
1 tsp. baking powder
1 tsp. baking soda
¾ tsp. kosher salt
2 Skor bars, roughly chopped
1 c. semi-sweet chocolate chips
½ c. toasted, chopped hazelnuts
flaky sea salt to sprinkle on top
Line a baking sheet with parchment paper and set aside.

In a stand mixer, cream together the butter and the two sugars. Add in the eggs, one at a time and the vanilla extract until blended together.

Add in the flour, baking powder, baking soda and salt. Mix to just combine. Finally add in the chocolate chips and chopped hazelnuts and using a wooden spoon, stir to incorporate.

Using a cookie scoop or a spoon, scoop approximately 2½ tbsp. per cookie ball. Place each dough ball on the parchment-lined sheet, leaving minimal space in between. 

Pop the sheet pan into the freezer for 1–2 hours. Then put the dough balls into a freezer bag to stow away until unexpected visitors arrive.

When ready to bake, preheat the oven to 375°F, place your cookie dough balls two inches apart, give them a sprinkle of flaky sea salt and bake for 12–14 minutes. Six minutes into the bake time, pull the sheet out and drop it onto a solid surface (pan bang) to encourage ripples and spread in the cookies.