This classic Mexican recipe is a beloved fiesta favourite, and will keep well in the refrigerator for up to a week.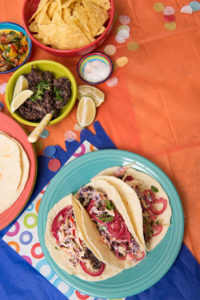 1 Tbsp olive oil
1 small yellow onion, finely diced
½ tsp kosher salt
½ tsp chili powder
¼ tsp ground cumin
½ tsp pepper
2 cans black beans, rinsed and drained
½ cup water
3 Tbsp fresh cilantro, chopped
½ Tbsp lime juice
coarse sea salt or
flake salt
Warm the olive oil in a saucepan over medium heat.Add the onions and cook until translucent, 6–8 minutes.
Add the salt, chili powder, cumin, and pepper. Continue to cook for another minute, and then add the beans and water. Cover and cook for 8–10 minutes.
Reduce the heat to low and, using a potato masher, mash up at least half of the beans.  If more texture is the goal, stop there. If less texture is the goal, mash up more beans.
With the lid off, cook the beans for another 5–10 minutes. If the beans seem a bit dry, add another splash of water. Remove from heat and stir in the fresh cilantro and lime juice. Finish with a sprinkle of coarse sea salt.