This slaw combats the spice of Pork Carnitas with a cool refreshing crunch. It can be made up to 8 hours in advance and stored in the refrigerator until serving time.
Salad Mix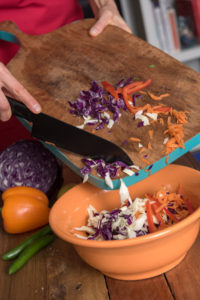 1 ½ cups purple cabbage, finely shredded
1 ½ cups green cabbage, finely shredded
2 carrots, coarsely grated
1 red pepper, thinly sliced
¼ cup fresh cilantro, chopped
3 green onions, finely sliced
Dressing
½ cup sour cream or mayonnaise (if using Miracle Whip, omit the sugar)
1 tsp lime juice
½ tsp salt
¼ tsp pepper
1 tsp sugar
In a large bowl, combine all the salad mix ingredients. In a small bowl, whisk together all the ingredients for the dressing, and pour over the salad.