With their tangy crunch, these quick-pickled onions make a great topping for a variety of dishes, including Pork Carnitas. They're best eaten within a few days, but will keep in the refrigerator for a couple of weeks.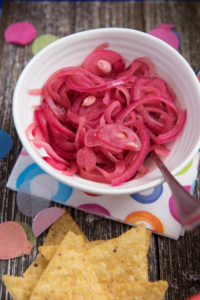 ¼ cup red wine vinegar
1 tsp kosher salt
2 Tbsp white sugar
1 cup water
1 small red onion, thinly sliced
In a small pan, combine the vinegar, salt, sugar, and water. Bring the mixture to a gentle simmer over medium heat for 2–3 minutes.
Pack down the red onions in a mason jar, and place it in the sink
(to contain splashing of the hot mixture). Carefully pour the mixture over the onions. Using a spoon, press down on the onions to remove any air bubbles in the jar (but don't seal the jar yet).
Once the pickles have cooled to room temperature (about 20–30 minutes), they are sufficiently pickled for serving. Or feel free to seal the jar and store in the refrigerator.