This guacamole-like spread makes for a great multipurpose dish that can be a chip dip, taco topping, or simply on top of toast. It will keep in the refrigerator for 3 or 4 days.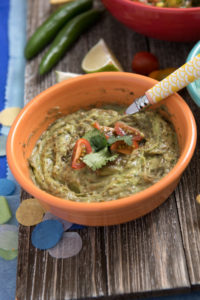 2 large avocados, halved and pitted
2 Tbsp fresh cilantro, chopped
1-2 tsp lime juice
1 tsp coarse kosher salt
½ tsp pepper
2 Tbsp water, more as needed
Place the avocado, fresh cilantro, lime juice, salt, and pepper into a food processor, and process until creamy. Add the water, and continue to process until smooth (more water can be added to achieve desired consistency). Transfer to a serving bowl, and refrigerate until ready to serve.