What's a fiesta without margaritas? This fruit-infused drink is the perfect refreshment before or after a spicy meal, and is sure to put a smile on your face (or maybe that's just the tequila).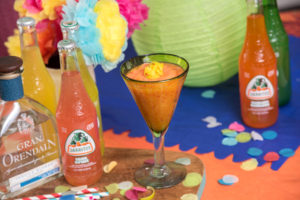 3 cups ice
3 cups frozen mango
4 ounces tequila
2 ounces triple sec
½ ounce agave syrup
1-2 limes, juiced (to taste)
tonic water or club soda (to taste)
Put the first 6 ingredients into a blender and blend until smooth. Mix with tonic water or club soda to the desired consistency (use less for a slushier margarita).