This recipe calls for feuilletine – a crispy sugar-cone-like confection made from thin, sweetened crêpes that can be found at specialty bakeshops. In a pinch, cornflakes will also do the trick. Serve with Dark Chocolate-Cinnamon Drizzle and mango slices.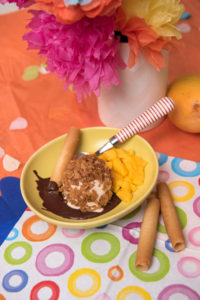 1.5 L container vanilla ice cream
1 tsp cinnamon
1 cup feuilletine
¼ cup light brown sugar
2 Tbsp melted butter
½ tsp vanilla bean sugar (purchase, or make your own)
Let the ice cream soften on the counter. Once softened, scoop into a large mixing bowl and add the cinnamon. With electric beaters, thoroughly beat the ice cream and the cinnamon. Transfer the ice cream back into its container and refreeze.
In a bowl, combine the feuilletine, brown sugar, melted butter, and vanilla bean sugar.
Using a large scoop, make ice cream balls, and roll in the crumb mixture. Place on a parchment-lined pan, and freeze again until ready to serve. (These can be frozen for up to 2 hours before the crumb mixture starts to soften).
Tip: To make homemade vanilla bean sugar, split one vanilla bean lengthwise, scrape the seeds, and place the seeds and the pod into two cups of white sugar in a mason jar. Seal the jar and infuse for 1–2 weeks.