The aroma of bread baking is such a familiar feeling of family, generational history, and Grandma's ki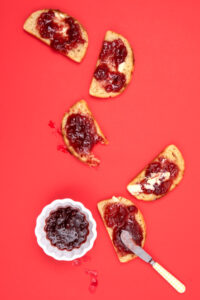 tchen. Pair a warm slice of bread with homemade strawberry jam and just enjoy that moment and all that came before.
Click here for the Homemade Vanilla Strawberry Jam.
4–4½ c. all-purpose flour
1 tbsp. sugar
2¼ tsp. kosher salt
1 package or 2¼ tsp. instant yeast
2¼ c. lukewarm water
Using a piece of parchment and a small amount of butter, grease the inside of two loaf pans, set aside. Save the buttery parchment for rubbing the cooked loaves at the end.
In the bowl of a stand mixer (with dough hook attachment), add the flour, sugar, salt and yeast. With the mixer running on low, slowly pour in the water watching for the dough to pull together to form a sticky ball. 
Remove the bowl from the stand mixer and cover with a damp tea towel. Place the bowl in a draft free or warmer part of the kitchen. Let it rise for one and a half hours or until the dough looks roughly double in size.
Preheat the oven to 425°F. Lightly flour the work surface. Scrape the dough ball out of the bowl and onto the floured surface. Divide the dough into two pieces and work with one portion at a time. Using your hands, cup and rotate the dough, gently forming it into a round ball (This is a no knead bread so do the cup and roll approximately five to eight times). Next shape it into a loaf and put in the prepared pan. Then do the same with the second piece of dough. Place the two loaf pans by the warm stove and cover with a damp towel. Let them rise again for 30 minutes.
Bake the loaves for 15 minutes. Then turn down the oven temperature to 375°F and cook for another
20 minutes. The loaves should be golden brown and sound hollow when tapped on with either your fingers or a knife.
Tip the loaves out of the pans onto a cooling rack and rub the top of each loaf using the buttery piece of parchment from pan preparation.
Let cool for at least 15 minutes before slicing.