Give this salad a try and incorporate it into the start of your family's repertoire of recipes.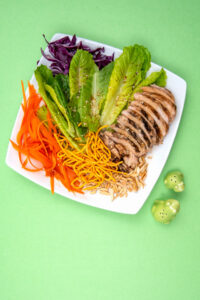 Salad
2 large carrots, grated or shaved using a vegetable peeler
1 c. cabbage (napa, green or purple-all are delicious), shredded
1 pepper (red, yellow or orange)
1 head of romaine lettuce, shredded
2 chicken breasts, sliced (either from a rotisserie chicken or barbequed with olive oil, salt and pepper)
½ c. toasted almonds, slivered or sliced
1 tbsp. toasted sesame seeds (white or black)
a handful or more of chow mein noodles
Dressing
2 tbsp. soy sauce
2 tbsp. rice vinegar
a pinch of sugar, kosher salt and pepper
In a large bowl, combine the salad ingredients excluding the chow mein noodles and lightly toss. 
In a small bowl, whisk the dressing ingredients together and toss into the salad until everything is coated. Finish with the handful of chow mein noodles and serve!