These squares are always a hit as an after swim snack or a class snack break. This recipe m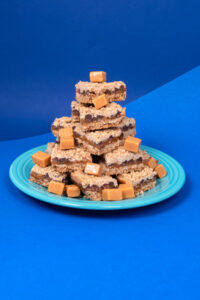 akes a full nine-by-13-inch pan of squares and they freeze beautifully for making ahead preparation!
50 caramels, 1½ bags
½ c. whipping cream, 33% Milk Fat
2 c. old fashioned oats
1½ c. all-purpose flour
½ c. whole wheat flour
1 c. brown sugar, loosely packed
1 tsp. baking soda
1 tsp. kosher salt
1¼ c. unsalted butter, cold and cubed
1¼ c. semi-sweet chocolate chips
Preheat the oven to 350°F. Line a nine-by-13-inch baking pan with parchment paper leaving overhangs on each side. Spray the pan with non-cooking spray if there's any exposed pan.
In a small sauce pan over medium heat, stir together the caramels and the cream until melted, set aside.
In a food processor, add the oats, flour, brown sugar, baking soda and salt. Pulse a few times to combine. Add in the butter while the processor is running until the mixture contains coarse crumbs. 
Pour half of the dry mixture into the lined pan and press evenly. Bake for 20 minutes or until colour starts to develop around the edges. Let this cool for 10 minutes.
Sprinkle the chocolate chips on top of the cooled crust and then pour the caramel mixture in an even layer (as even as you can get) over top of the chocolate chips.  Finally, distribute the remainder of the crumb mixture on top. Using your fingertips, press down over the entire surface of the oat layer. 
Bake until the top has colour and the caramel is bubbling, 20–25 minutes.
Cool completely.  Cut into squares and enjoy or pop into the freezer for enjoyment later!