Honestly this herb drizzle would add a hit of fresh, herby goodness to any vegetable or protein. It would even be delicious as a dip with a fresh baguette.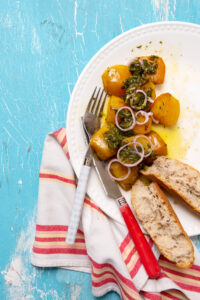 In a food processor, add all the ingredients together and process to combine.
This is best served day of, but it will keep in the fridge for up to a week. Bring it up to room temperature before serving, so the olive oil is back to a liquid.
To roast the beets
Preheat the oven to 375°F. Set a sheet pan aside. 
Trim the ends off, vegetable peel the skins off. Toss the prepared beets in olive oil and wrap three to four at a time in a tinfoil packet. Back for one hour, or until you can easily pierce the beet with a sharp knife. 
Let them cool slightly and then slice.
Drizzle the beets with the herb sauce and any additional protein you might want to add. Dig in and enjoy!