Sugar cookies are not only tasty; they also have great versatility for flavour change-ups. Sprinkles are always a great addition, but what about freeze-dried fruit or black sesame seeds. The possibilities are endless!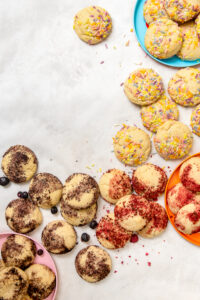 1 ½ c. all-purpose flour

1 tsp. cream of tartar

½ tsp. baking soda

½ tsp. kosher salt

½ c. butter, room temperature

¾ c. granulated sugar

1 tsp. vanilla bean paste or extract

1 egg

2 tbsp. freeze-dried raspberries, crushed to a powder

2 tbsp. freeze-dried blueberries, same as above

2 tbsp. black sesame seeds
Preheat the oven to 400°F. Line two baking sheets with parchment paper and set aside.

In the bowl of a stand mixer, cream together the butter and sugar. Add in the egg and the vanilla and mix to combine. Add in the flour, cream of tartar, baking soda, and salt. Mix to combine.

Using a cookie scoop, turn your dough into cookie dough balls and then roll the dough balls in one of the three toppings above.

Bake the cookies for eight to 10 minutes and let cool completely.