The combination of the cinnamon flavour of the Biscoff spread combined with the tart pop of blueberries makes this snacking cake a "not-too-sweet" indulgence.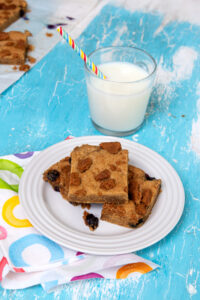 ½ c. butter

½ c. brown sugar

3 tbsp. Biscoff spread

1 tsp. vanilla 

1 egg yolk

1 c. all-purpose flour

½ tsp. baking soda

½ tsp. kosher salt

½ c. fresh blueberries, tossed in ½ tsp. cornstarch

6-7 Biscoff cookies, coarsely crumbled
Preheat the oven to 350°F. Line an 8×8-inch baking dish with parchment paper, spraying the sides to ensure easy removal of your blondies.

In the bowl of a stand mixer, cream together the butter and the brown sugar. Add in the egg yolk, the cookie spread and the vanilla. Mix to combine.

Add in the flour, baking soda and salt, lightly mix. Remove the bowl from the stand mixer and gently stir in the blueberries.

Press the batter into the prepared baking pan using slightly wet fingertips. Crumble the cookies over top and bake for 25–27 minutes. Let cool in the pan for 1 hour before slicing.