This beautiful snack platter does not require a recipe, but is more of an instruction on assembly. What a great way to nosh on veggies, chips and dip while definitely feasting with your eyes first!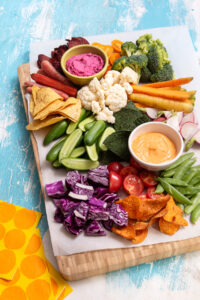 Large platter, cutting board, plate, tray or a 9×13-inch dish. Anything will work!
Here are some suggestions:
cucumber

cugar snap peas

qatermelon radishes

tomatoes

coloured cauliflower

pepper, all colours

purple cabbage

jicama

carrots

terra chips

tortilla chips

multi-seed crackers

coconut chips

pita chips

cashews

almonds

pistachios

hummus

red pepper dip

ranch dip
Truly, these are suggestions; let your imagination build this snack platter! 
Place everything on the platter, so all similar colours are grouped together. Mix it up, so there are pops of colour throughout! Tuck in a few dips here and there, some chips and nuts, and you have got yourself a beautiful, fun snack platter. 
Switch it up entirely and do fruit with yogurt dips. Have fun and keep it flexible!