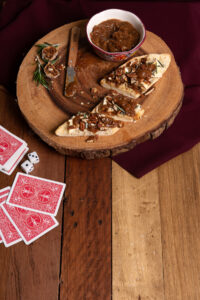 Does anything more need to be said after the phrase "warm brie?" Well, let's go ahead anyway and talk about figs and pears, too! 
1 firm ripe pear, peeled, cored and chopped
¾ c. chopped dried figs
½ c. water
1 ½ tbsp. chopped crystallized ginger
1 tbsp. brown sugar
½ tsp. vanilla extract
¼ tsp. grated nutmeg
Combine the above ingredients in a medium saucepan. Bring this mixture to a boil and then turn down the heat to a simmer. Continue to cook for 25–30 minutes. Let this cool and then using an immersion blender, blend to desired consistency.
For serving:
fresh baguette and/or crackers
chopped fresh rosemary
toasted, chopped pecans
a round of brie, room temperature
Winning combination = slice of baguette + wedge of brie + spoonful of jam + a sprinkle of both fresh rosemary & chopped pecans!