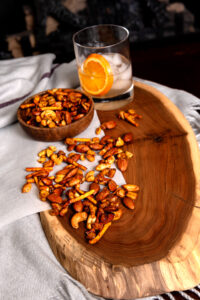 The warmth of the Hawaij spice mix, combined with the sweetness of the date syrup and the spice of the pepper give this snack mix a unique taste. Combine all that flavour with the floral notes of the long pepper and you've got yourself a great "won't be around long" party mix! 
1 c. natural almonds, whole
1 c. natural cashews, whole
1 c. toasted corn
½ c. chow mein noodles
1 tsp. kosher salt
½ tsp. hawaij spice mix
½ tsp. freshly ground black pepper
½ 1 long pepper grated (using a microplane)
¼ c. date syrup
¼ c. water
1 tbsp. butter, unsalted

Preheat the oven to 350°F. Line a rimmed baking sheet with parchment paper and set aside. In a large bowl, combine all the dry ingredients and give this a quick stir, set aside.

In a small saucepan, combine the date syrup, water and butter over medium heat. Heat this mixture up until the butter is melted and the sauce has a consistent texture. Pour this mixture over the top of the dry ingredients and stir to coat everything.

On the baking sheet, spread the snack mix into a single layer.  Bake for 15 minutes, stirring halfway through. Cool slightly and serve warm or cool completely and store in an airtight container for later.