Ultimate comfort in a bowl. This soup is half-pureed so it is creamy while still having chunks of potato and carrot. Perfect with a warm piece of baguette to perk you up at the end of the day.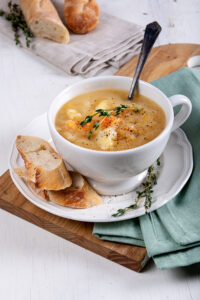 1 tbsp. olive oil
5 medium potatoes, peeled and cubed
2 carrots, peeled and sliced
2 stalks of thyme
1 parmesan rind (Keep these in the freezer and they are a great addition to any soup or sauce!)
kosher salt and pepper to taste
4 ½ c. vegetable broth
In a large pot, heat the olive oil over medium heat. Once the oil starts to shimmer, add in the potatoes, carrots, salt and pepper. Stir for four minutes.
Add in the vegetable broth, the parmesan rind and the thyme. Stir and cook until the veggies are fork tender, usually 20-30 minutes.
Take the pot off the heat, remove the thyme stalks and parmesan rind. With a hand blender, puree half of the soup. Taste and adjust the salt and pepper if needed.
Serve warm.
(If you like a chunkier soup, skip the puree step and if you want a smoother soup, puree it all!)