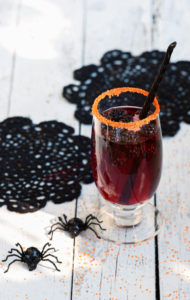 This stormy little cocktail makes a perfect Halloween treat. Just go easy on the boos.
Orange decorating sugar, to rim glass
1 1/2 oz spiced rum
1/2 oz Grand Marnier
1/2 oz pineapple juice
1 tbsp freshly squeezed lime juice
12 frozen blackberries
Blackberry Italian soda, to taste
Black licorice, to garnish
Wet the rim of a tall cocktail glass, dip it in a plate of orange decorating sugar, and set the rimmed glass aside.
Fill a cocktail shaker with ice; then add the rum, Grand Marnier, pineapple juice and lime juice. Secure the lid, and shake until chilled. Next, fill the prepared glass with frozen blackberries, and strain the cocktail into it. Top with blackberry soda to taste, and garnish with a stick of black licorice. Enjoy responsibly!