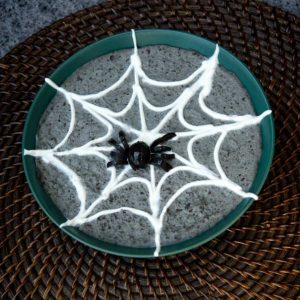 It's not a party without dip, and this one's hard to beat. It's packed with protein, fibre and big, big flavour.
1 can (15oz) of black beans, drained and rinsed
1/4 cup extra-virgin olive oil
3 tbsp freshly squeezed lime juice
2 tbsp tahini paste
1 tsp cumin
3/4 tsp salt
1/2 tsp ground coriander seeds
1/4 tsp crushed red chili peppers (more to taste)
2 cloves garlic, peeled and minced
1 handful fresh cilantro, chopped
Sour cream, to garnish
Place the black beans, olive oil, lime juice, tahini paste, cumin, salt, coriander, chili peppers, garlic and cilantro in a food processor, and whiz it until smooth. Taste the hummus, and adjust the seasoning to your liking.
Spoon the hummus into a bowl, smooth it into an even layer and pipe on some sour cream in a spider web pattern (we made a piping bag out of a sandwich bag and cut the tip off). Serve with blue corn chips, and devour.