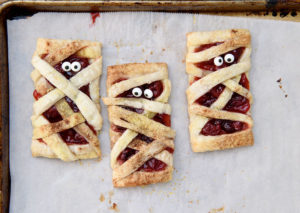 Craving some adorable for breakfast? These pastries are scrumptious and easy for little helpers to get in on.
2 sheets store-bought frozen puff pastry, thawed
1 can of your favourite pie filling (we used cherry)
3 tbsp white sugar
1/2 tsp ground cinnamon
Candy sugar eyes
Preheat the oven to the temperature specified on the puff pastry box, and line a large baking sheet with parchment paper.
Lightly flour a work surface, and place one of the puff pastry sheets on it. With a floured rolling pin, smooth out any cracks or bumps in the pastry. Next, with a ruler and a pizza wheel, evenly divide and cut the sheet into pop-tart-sized rectangles. Transfer the rectangles to the prepared baking sheet.
Place the second pastry sheet on the floured work surface, and sprinkle it with the white sugar and cinnamon. With the rolling pin, gently roll the sugar into the pastry, and then cut the sheet into "bandage strips" with the pizza wheel.
Place 2 or 3 tablespoons of pie filling in the centre of each rectangle, and spread it out to the perimeter, stopping 1/2 inch shy of the edge on all sides. Next, brush a little water on the bare edges to make them tacky. Place the "bandages" sugar-side up in a haphazard pattern atop the pie filling (see image). Trim the edges with the pizza roller, and place in the preheated oven for 15 to 20 minutes or until golden brown and puffy. Transfer the mummies to a cooling rack, and decorate them with candy eyes.