Devilled eggs are having a moment, and these pack a worthy punch.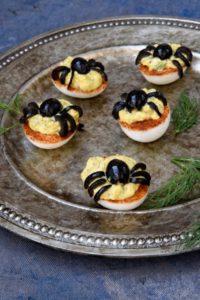 3 oz Spanish chorizo, sliced
8 eggs, hard-boiled, peeled and sliced in half lengthwise
2 tbsp yellow mustard
1 tbsp mayonnaise
1 tbsp sour cream (or Greek yogourt)
1 tbsp capers, drained and minced
1 tsp freshly grated lemon zest
1 tbsp chopped dill
2 tsp minced chives
1/4 tsp sriracha sauce
1/2 tsp salt
Black olives, to decorate
Smoked sweet paprika (for sprinkling on the whites)
Slice the chorizo into strips, and fry it in a pan until crispy. With a slotted spoon, remove the chorizo from the pan, and place it on some paper towel to drain.
With a teaspoon, gently scoop out the hard-boiled yolks into a small mixing bowl, and place the whites flat-side-up on a serving tray. To the bowl, add the mustard, mayo, sour cream, capers, lemon zest, dill, chives, sriracha sauce and salt. Stir to combine; then crumble in the chorizo.
Sprinkle the egg whites with a light dusting of paprika, fill each centre with a generous spoonful of the filling and garnish with a black olive spider