Planks for the Memories – Reborn Barns aims to create durable products that reflect Alberta's rural history
It's a rustic take on an old saying about opportunity: tear something down and something else will spring up in its place. Well, that insight seems to have worked for Ryan Steblyk, owner and operator of Reborn Barns, located in St. Albert. A grassroots operation in every way
imaginable, Steblyk has hacked, carved and sawed out a living from rescuing old timber from rickety barns and other rural structures that see new life as furniture, walls and other items that add a down-home feel to a modern residence.
"I've been in love with the warm, cozy feeling that reclaimed wood brings to a space long before 'rustic chic' became trendy on HGTV," said Steblyk, who's been running Reborn Barns since 2012. 
But Steblyk doesn't come across as a follower of interior design fads. His orientation towards using reclaimed wood is far more personal, having grown up in rural northern Alberta and admired a landscape that used to be populated with grain elevators, barns and other buildings that defined this province's agrarian roots.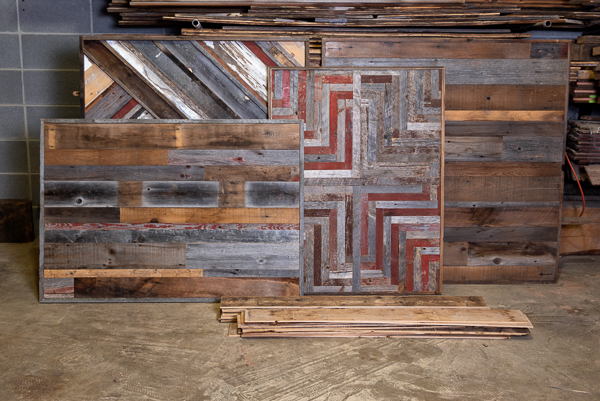 Bemoaning the fate of these structures that succumb to the withering effects of time, Steblyk felt that the material was not only durable enough to be recycled into other products, he believed that the wood's new incarnation would in a way keep the legacy of those old structures alive.
"We have the unique, albeit limited, opportunity to get first and second hand recounts of how these buildings played an integral part in our growth as a nation," said Steblyk. "I've had the chance to talk to farmers whose parents were original homesteaders and have memories of community barn raisings. 
Reborn Barns has allowed me to pay tribute to the hard working families that worked tirelessly through incredible hardships to develop our province."
Steblyk is equally tireless in going about his business, which started out as a wood-crafting sideline gig while he was running his own media company. Even the pandemic that started in 2020 hasn't broken his stride as he's come across customers with plenty of time on their hands to renovate their homes.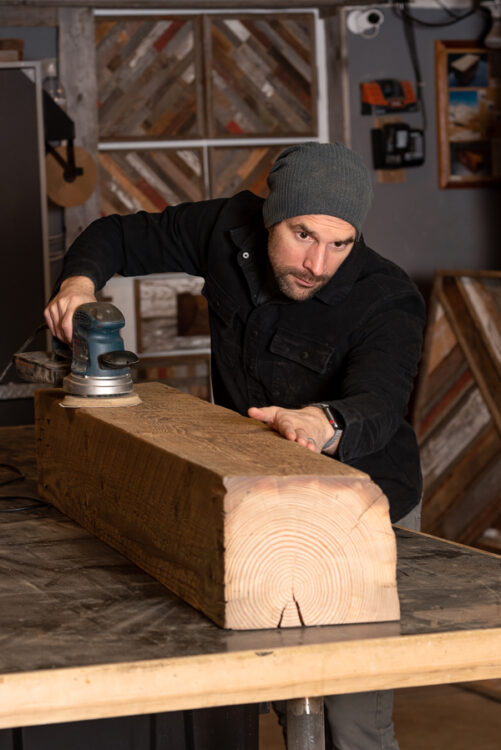 While Steblyk meets customers only by appointment these days, demand for his work remains high, especially for his milled feature wall material and ready-to-installed barn doors, two of his hottest sellers. One of his favourite projects involved treating the residential walls of Edmonton businessman and country singer Danny Hooper, who allowed Steblyk free reign in the place.
He also receives several requests from folks who want their old structures torn down, although he's sometimes hard pressed to decline those offers.
"As much as I'd like to reclaim all the beautiful structures I'm offered, storage and time become limiting factors," said Steblyk. "I tend to give priority to buildings with interesting history but material integrity, patina, and proximity to home base definitely weigh in. Old growth fir is probably my favorite to work with and I love repurposing structural fir timbers into fireplace mantles."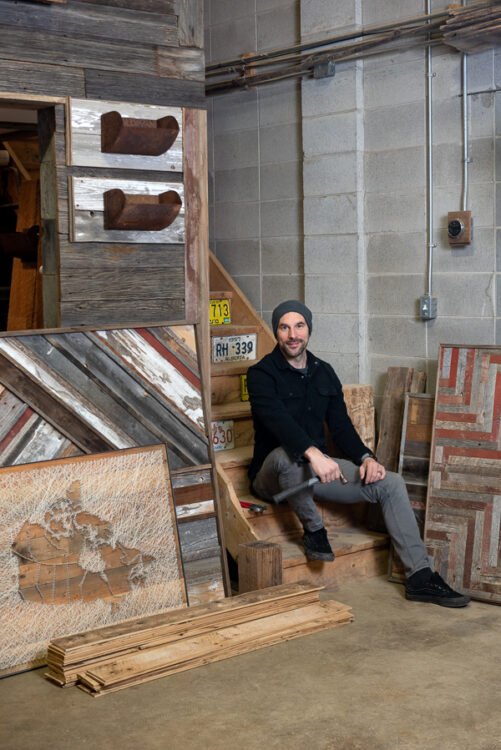 Preserving history through his business also reflects an environmentalist sensibility that attracts customers. "I consider myself very fortunate to have a clientele that values sustainability, appreciates the effort that goes into hand salvaging old growth material, and are drawn to the story behind each building that is reclaimed, "said Steblyk. "In today's throw-away society, it's reassuring to meet people who invest in local, handmade products that are built to last generations."
Reborn Barns
780 953 7832