If you happen to have swords, Second World War weapons, shark skeletons, or 2,000-year-old Pompeiian vases lying around your house in need of framing, we know just the place for you. Since 2015, Mister Frame, located at 2009 Tudor Glen, has seen—and framed—it all. "As a single mother, I don't get to travel a lot, so I'm able to travel vicariously through our customers," says manager, Alicia Marangoni.
A family-run custom picture framing business, Mister Frame offers a large selection of custom frames, matting, and conservation materials designed to ensure the longevity of your artwork and possessions. Aside from the obvious, the store also provides printing and digital photo restoration services as well as carries home décor items and needle craft supplies, making it one of two stores left in St. Albert along with Michaels to supply the latter. "We're somewhat of a niche market," Marangoni says.
Longtime residents of St. Albert might still think of the current operation as Prints Galore, the space's previous inhabitant for 40 years. But the venerable establishment was also an inspiration for Mister Frame owner Wes Pigeon to start the business that has since replaced it.
In order to receive a work experience credit in high school, Pigeon found a job at Prints Galore which sold art prints and provided expertise in custom framing. Upon completing his required hours, Pigeon was offered a permanent position at the shop. It was during this time that he discovered his passion for the art of framing and realized that he one day wanted to start his own custom framing business. That day came in 2004, when the first Mister Frame storefront was opened on 107 Avenue NW.
As his business in Edmonton began to thrive, Pigeon set his sights on an expansion back to where it all began: 2009 Tudor Glen. Always wanting to have run Prints Galore himself, the timing was never quite right. But now well financially positioned, Pigeon was able to make his old boss a successful offer on the business in June, 2015. The shop operated under the name Prints Galore for two more years as an ode to days gone by; but was renamed Mister Frame in 2017 in order to simplify the businesses affairs.
Today, Mister Frame has its trade down to a science. The first thing customers are asked when looking to frame something is whether they have a particular design in mind. Next comes the option of matting, which refers to adding a thin, flat piece of decorative paper- or fabric-based material in between the artwork and the frame. Followed by the matting is the frame itself. Customers can discuss designs from scratch or search through a variety of prototypes, pairing them with different colours and styles of matting until a desired combination has been chosen. Lastly, depending on how valuable your piece is, staff will recommend whether to use a screen of regular glass or of conservation glass which protects the colours and quality of the work.
"It can be a bit overwhelming, but we are very patient, and we are happy to explain the process to anybody," Marangoni says.
While a large percentage of Mister Frame's business in St. Albert comes from the local art community whose talent Marangoni says "constantly amazes" her, the shop's clientele also includes St. Albert Fire and Rescue Services, the Government of Alberta, and The Sports Corporation, an Edmonton-based hockey agency. In fact, hockey jerseys and memorabilia frequent the shop almost as often as diplomas, degrees, and traditional artwork. Last summer, the business was hired to frame Jarome Iginla's jersey for the renaming ceremony of Akinsdale Arena to Jarome Iginla Arena.
"We really have a huge range of customers from artists to businesses to little old ladies with their needle work. I love it," Marangoni says.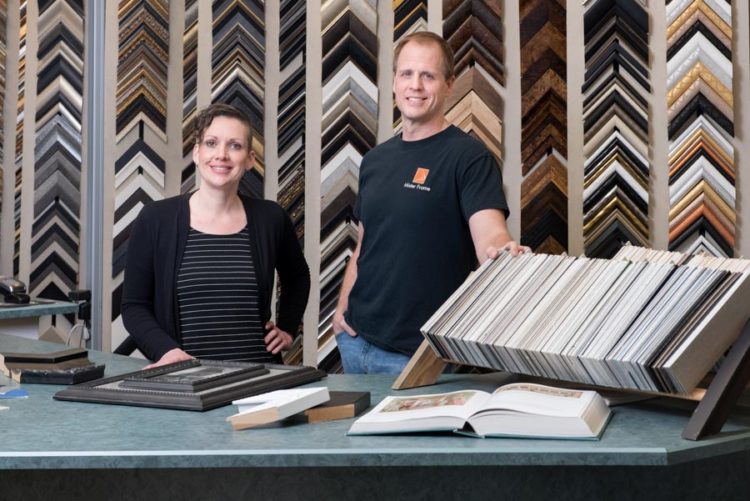 The loyalty of Mister Frame's clients and customers is what has allowed the shop to continue thriving even as the business of custom framing slowly shrinks. Twenty years ago, there were "half a dozen" similar outlets in St. Albert which all kept busy, Marangoni says. "The demand for custom framing has definitely gone down and I think that can be attributed to big-box stores and online art purchasing." Nowadays, people can purchase pre-framed artwork both in-store and online for a fraction of the price that custom framing would cost.
However, this trend of mass-production has only helped to inspire creativity right here within our community. With a variety of art exhibitions that take place year-round at City Hall and the Enjoy Centre, Marangoni says she is starting to see more and more "diverse" original work come through the shop.
In the future, Marangoni wants to create a gallery within the store showcasing local art framed by the business.
"I would like to give our customers a connection to those artists and open up the community a little more by working together." t8n
Mister Frame at a glance:
Location: 2009 Tudor Glen
Phone: 780-458-4999
Specialty: Three-dimensional framing, needle craft supplies
Fun fact: Each frame is hand-crafted individual by professionals in Edmonton and Calgary