It's one of many things Leanne Mohagen loves about her job. "When you put that piece in a room, or you put a whole room together," says the owner of Simone and Ivy, a home furnishings store that offers interior design consultation, workshops and studio space, helping clients redecorate and transform their homes. It's vicarious work, to be sure, but that doesn't make it less thrilling. 
"Being able to feel that gratification of place, where they spend all of their time and where they've invested all of their money…" she muses. "It feels good, and I think that's the exciting part." 
A Whole-Home Concept
Opening on St. Albert Trail in June 2019, Simone and Ivy features a bright, wide-open space, filled with the usual array of furnishings and home accents one typically finds in high-end shops. But a few differences stand out. Like the section of wall stocked with reed diffusers, artisanal soaps and other chic gift ideas, or the workers at the back busily receiving a large shipment of flowers.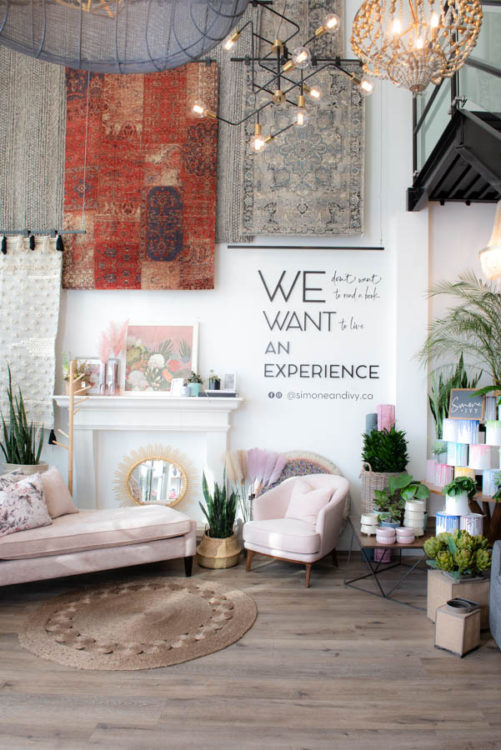 "I just had a different concept of how shopping for your home could be," Mohagen explains. "We sell sofas, but we also have a full-time florist. For me it's everything in the home that makes it feel beautiful."
The variety at the store is itself somewhat conceptual, as Mohagen aims to provide one-stop shopping as a kind of service. In some ways, it's the convenience of a big box store meeting the curated feel of an independent shop. The store also tries to support charitable organizations in town, like the hospital foundation and Big Brothers Big Sisters.
"At the end of the day, everything that we have in this store, you can find somewhere else or online," she says. "I think that what sets us apart, and what's making us successful, is that we are a brick-and-mortar store here in St. Albert that's giving back and offers all these services under one roof."
Going Home, in a Big Way
Simone and Ivy grew out of Mohagen's love of retail. After running a successful window coverings franchise in Regina for many years, she settled in St. Albert a few years ago, but found she missed owning her own business. Feeling that the retail side of home furnishings was perhaps untapped in this area, she sensed an opportunity.
"I wanted a place where people could come and feel welcome to decorate their home and have that professional expertise," she says. She admits she might have gone a little overboard. "My husband always laughs because he's like, 'You wanted a small window coverings store and here you are with 4,500 square feet of everything that you could put into your home.' I guess that's a bit of my personality. Go big or go home."
It's a concept that treats interior decorating—and even the home itself—as a fun and meaningful hands-on experience. The store offers in-house workshops that cover various topics, from holiday-themed decorations to floral arrangements and terrariums to DIY weddings. "In this economy, we're not going to be successful selling sofas. We're going to be successful providing an experience service that they're not getting anywhere else."
Fittingly, a lot of her clientele isn't necessarily looking to add or replace furnishings or to totally renovate. Many simply need a consultant to help organize and refresh what they already have. Mohagen says she doesn't like to use the word "minimalism," but recognizes that there is a huge trend toward decluttering and simplification these days. "They want it to be bright and airy and open," she explains. "Those are the words we continue to hear."
For Those about to Decorate
Mohagen recommends trying to see the whole picture when redecorating, regardless of your budget. It's all about doing things according to a plan, something a professional can help formulate. A common mistake people make is that they tackle a huge redecorating project in a piecemeal fashion, because that's all their current budget allows them to do. A better approach, she says, would be to first come up with a comprehensive plan, and then chip away at it in pieces.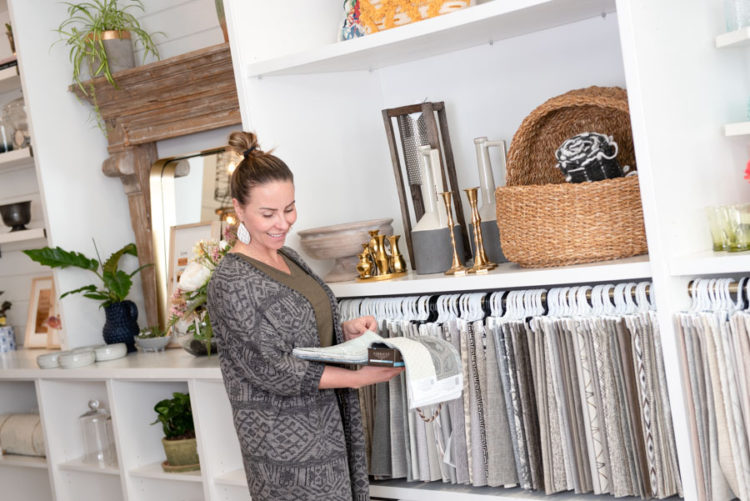 She also encourages customers to be as hands-on as they want to be. Some admittedly have the talent, but not the time—leading to some fun, HGTV-style reveals where the work is completed while the client is at work. But for those with the time and enthusiasm, there's enough room at Simone and Ivy to get involved, something Mohagen is more than happy to see.
"We just want people to be part of the experience of their own home," Mohagen says. "It should be fun, and it should be an experience, and it shouldn't be stressful." 
Simone & Ivy at a Glance
Location: #20, 580 St. Albert Trail,
(587) 805-2414
Founder: Leanne Mohagen
Opened: June 2019
Specialty: Service-oriented one-stop shopping, studio space and workshops
Fun Fact: The store is named after the owner's mother and grandmother.