Picture this. You're in your early 20s, you're with your best friend, and you're travelling the coast of Spain and Portugal by motorcycle. Captivated by all the scenery, food, and wine that the Iberian Peninsula had to offer, one of you says to the other, "We should open up a European-style restaurant in Edmonton."
This was the case for Christian Mena and Lino Oliveira.
"It was probably more of a joke than anything, but I would imagine that at some point that was the catalyst for the idea of opening a restaurant at all," explains Mena, co-owner of Bodega Tapas and Wine Bar by SABOR.
That catalyst spawned SABOR, which opened in 2008 in Edmonton. A few years later, the duo opened Bodega with a focus on Spanish and Portuguese tapas—appetizer-sized menu items meant to be served with wine or cocktails. The entrepreneurs have since opened three Bodega locations in the city before hanging yet another shingle in October in St. Albert where they continue to promise traditional Spanish tapas, well paired wines, and friendly service, all coated in an ambiance you would expect to find within a bustling Barcelona or Madrid eatery. "Tapas is more about the culture than it is the food," says Bodega co-owner Oliveira.
Bodega's recent expansion to St. Albert has been a strategic effort by Mena and Oliveira to serve one of the largest customer bases to frequent their SABOR's venue. Over the years, the pair have been told by countless clientele that they should bring their business further north of the Alberta capital. Much of the reasoning had to do with driving to downtown Edmonton, especially during this region's more severe winter regions that can hamper travelling to a favourite eatery.
Bodega's St. Albert location takes that obstacle out of the equation, giving residents more choices within its civic borders.
"Aside from providing great food, great drinks, and great atmosphere, our type of restaurant is also an escape in the sense that culturally you don't feel like you're in Edmonton," says Mena.
Best friends since elementary school, Mena and Oliveira both came to Canada with their families in the 1970s—Mena from Chile and Oliveira from Portugal. As teenagers in the 1980s, the two were introduced to the restaurant industry through work as busboys and dishwashers at such Edmonton fine-dining Establishments as Victor's and La Boheme, the storied French restaurant where Wayne Gretzky and friends from the Edmonton Oilers' glory days would dine privately in the wine cellar.
Following their individual passions in the 1990s, the two friends went their separate ways. Mena enjoyed nationwide success as the lead singer of Latin-funk band Maracujah and starred alongside Neil Patrick Harris in the US touring production of the Tony Award-winning Broadway musical Rent. Meanwhile, Oliveira moved back to Portugal, where for nearly 15 years he ran several different restaurants on the country's north coast near its border with Spain.
But eventually, "life happens," says Mena, who left the spotlight nearly 20 years ago to raise his family back in Edmonton. It wasn't long before he was trying to get Oliveira to follow his lead with the promise of opening that restaurant they had joked about as young men. To the pair, now well financially and culinarily positioned, the idea seemed like less of a joke than ever before. So, in 2007, Oliveira returned to Edmonton, and one year later, the duo opened SABOR.
At the time, St. Albert wasn't even on the radar, as the twosome focused on traditional Iberian flavours such as fish and seafood, with tapas being added to the SABOR menu in 2014. An immediate success, and inspired by the idea of people trying out food without the formality of multiple-course dining, Mena and Oliveira seized the opportunity and opened the first Bodega right next door to SABOR that same year.
"Bodega was a nice way to entice people to come and try us without having to commit to a reservation and a big meal," Oliveira explains.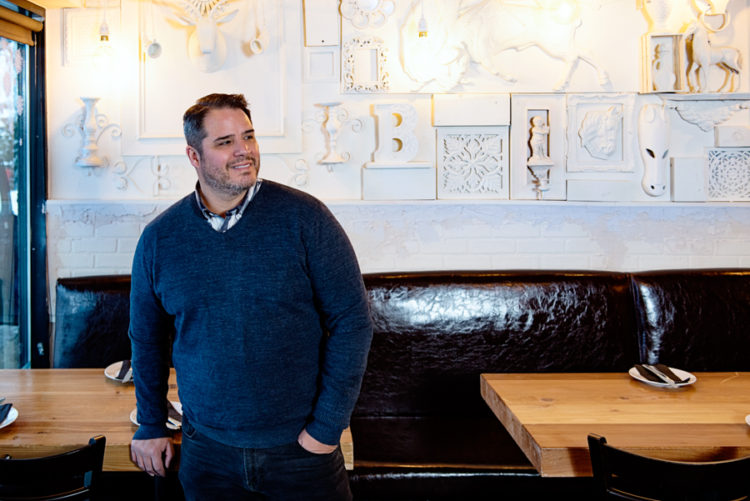 At Bodega, a customer can try a variety of small-scale servings of the same dishes served at SABOR for a fraction of the price.
As for the future, Mena and Oliveira plan to stay busy regardless of where their restaurants are located. "The plan is always there," Oliveira says. "Stay significant, keep occupied, and keep our name relevant." t8n
Bodega Tapas and Wine Bar by SABOR at a glance:
Location: 1 Hebert Road #101, St. Albert
Specialty: Wine, cocktails, cultural atmosphere
Unique Tapas Items: lamb and chicken lollipops, cured striploin, pork belly with kimchi, piri piri prawns, grilled octopus
When To Dine: The venue opens daily at 3 p.m.
Fun Fact: Weekends are the best opportunity for customers to chat with owners Mena and Oliveira