Feed Dad from a great selection of meals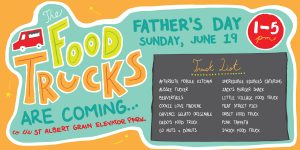 Image courtesy of Musee Heritage/Arts and Heritage St Albert
This Father's Day, if your dad just isn't in the mood for another backyard cookout, you might want to take him to Grain Elevator Park instead where food trucks of all kinds will be parked for an afternoon picnic. Tell Dad to eat a light breakfast because the smell of these trucks might leave him wanting to try a little bit of everything. Here is a quick teaser of the trucks you can expect to find this Sunday.
Afterbite Mobile Kitchen: Great for sharing, Afterbite offers a wide array of food-truck classics, including burgers, poutine and their signature pizza rolls.
Aussie Tucker: As you might be able to guess, Aussie Tucker specializes in Australian cuisine made from locally sourced ingredients. What does that mean exactly? Think Canadian food-truck standards, only with more fried eggs and pickled beets. A good fit for those looking for a fresh twist on old favourites.
Beavertails: This one is all in the name, too. Beavertails offers a wide variety of pastries, desserts and other sweet treats of all kinds.
Cookie Love Machine: More of a food tricycle than a food truck, Cookie Love Machine offers cookies and ice cream sandwiches of all kinds. The perfect dessert for a hot day.
Da Vinci Organic Gelato: A local truck from here in St. Albert, Da Vinci offers gelato of all flavours, made using traditional Italian recipes and all-natural ingredients.
Dedo's Food Truck: This will be your go-to truck for all things Mediterranean. Offering fresh salads, schawarma poutine and even their own homemade preserves, Dedo's food truck should definitely be on your list.
Go Nuts 4 Donuts: If you haven't visited a festival yet this summer, you're going to want to stop by Go Nuts for everyone's favourite summer treat: Mini Donuts. You might be able to pick them up in grocery stores year-round, but it's hard to beat fresh donuts hot off of the assembly line.
Incredible Edibles: A long-time favourite in the Edmonton area, Incredible Edibles offers a great array of tasty sandwiches and poutines.
Jack's Burger Shack: Another St. Albert favourite, the mobile version of Jack's Burger Shack offers the same great variety of burgers you'd expect from their parent restaurant. A great stop for any vegans or celiacs looking for a tasty meal.
Little Village Food Truck: If the word gourmet could be applied to any food truck, it would be this one. Specializing in Greek-fusion cuisine, Little Village will leave you amazed at what can be accomplished in a mobile kitchen.
Meat Street Pies: Despite its name, Meat Street Pies also offers veggie and gluten-free options, as well as a variety of pasties, great for a snack.
Orbit Food Truck: Whatever you can imagine being served inside of a taco, Orbit can probably give it to you. As creative as it is delicious.
Pink Taffeta: The mobile eatery of Pink Taffeta shows the same creativity you'd expect from their parent kitchen. Each day offers a different menu, but no matter what they're serving on Sunday, they're sure to leave you impressed.
S'Wich: There are street sandwiches, and then there are S'Wich sandwiches. S'Wich bakes all of their bread, cures all of their meat and prepares all of their sauces in-house, ensuring that all their ingredients are as fresh as they are delicious.