A taste for good things
Geppetto's at a Glance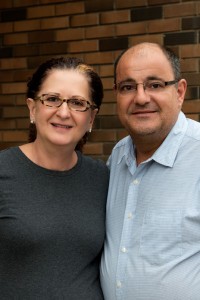 Owned by: Victor and Debra Garcia
Location: 18 Muir Drive, St. Albert
Their specialty: Premium gelato
Their mission: To supply a premium product and to get to know people in the St. Albert community
Interesting facts: Geppetto's Gelato is open only in the summer months—usually from the end of April to the end of September. Just enough time to try all 40 flavours.
Ice cream is synonymous with summer. And on a hot day, a scoop or two of this cold, creamy delight is like icing on cake—you just gotta have it. Good thing St. Albert has Victor and Debra Garcia. Each year the husband-and-wife team takes this traditional summer treat to new heights with their little labour of love, Geppetto's Gelato.
It's their fourth season as ice-cream shop owners, and the Garcias are up to their elbows serving top-quality gelato, ice cream and sorbet to a steady stream of customers. It's a pace they're more than used to. Victor has been a business owner in St. Albert for more than 30 years (he owns the hair salon next to the shop), and Debra works in retail management. So why add more work? That's simple: they absolutely love it.
"I love serving people," says Victor. "We have kids who come in, groups of seniors who come in, car clubs that come in, tons of families—everyone leaves happy." Debra agrees, "We give them a few tastes of ice cream, they find the one they want, we put it in one of our waffle cones—which are wonderful—and they are happy, happy people. It's really nice."
Not everyone comes in with wide eyes, however. Many customers know exactly what they want. "Men over 50 go for the maple walnut or the tiger-tiger," says Victor. "The kids love the really colorful ones—superhero, rainbow, cotton candy, bubble gum." Victor notes that Belgian chocolate gelato is their top seller, but he feels Amaretto gelato is the shop's must-try. "If a customer comes in and Victor is working, they are trying the Amaretto," jokes Debra.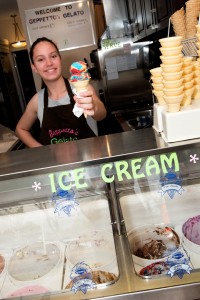 With between 29 and 40 flavours of gelato, ice cream or sorbet available at any given time, choosing a flavour isn't always easy. "We are happy to explain the products, and we listen to our customers," says Debra. Victor adds, "This year I've noticed a phenomenon—people are wanting half a scoop of this and half a scoop of that. We'll always accommodate them."
No matter what the flavour, there's a common ingredient in every scoop: quality. The Garcia's get their ice cream from Foothills Creamery and from Chapman's Ice Cream. They get their sorbet and gelato (which are made in Edmonton) from Pinocchio Ice Cream. In fact, Geppetto's Gelato is one of the only places where customers can buy the Pinocchio brand by the scoop.
"I knew Pinocchio ice cream years ago," says Victor. "Then they didn't sell directly to the public anymore." When the Garcia's were planning to open their ice cream shop, Victor knew he had to bring back his favourite ice cream product. The rest is history.
"Because of Pinocchio Ice Cream's website, we have people coming out from Sherwood Park, from Edmonton, from all over to get gelato," says Victor. True as that is, if it's the premium product that draws customers to Geppetto's Gelato, it's the friendly, family-
oriented atmosphere that brings them back. "Even though St. Albert is getting to be a big city, it still has that small town feel," says Victor. Debra adds, "This is a little family-run business, and it's other families who are coming to us … These are our customers, but these are also our neighbours. It's personal."
There's no doubt this personal touch is the Garcias' key to success. From hiring local high-school students (often giving them their first jobs) to their policy to always give customers more than less, the family has created a warm, almost nostalgic neighbourhood hub in Geppetto's Gelato.
"Ice cream people are happy people," says Debra. "If we weren't having fun, we wouldn't be doing this." "I always say," adds Victor, "this is the happiest place in
St. Albert." t8n
Did You Know?
Gelato, sorbet and ice cream are all delicious but differ in their characteristics.
Gelato: Creamy flavour, smooth texture, no additives or preservatives, two-month shelf life
Sorbet: Refreshing flavour, light texture, non-dairy, no sugar added, two-month shelf life
Ice Cream: Rich flavour, heavy texture, two-year shelf life (when stored properly)