Cranky's At a Glance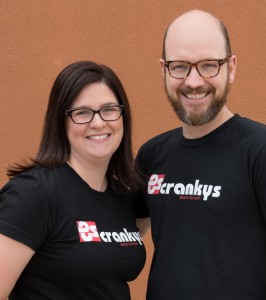 Owned by: Andrew & Angela Phelps
Location: 24 Perron Street, St. Albert
Their specialty: A full-service shop offering quality bikes, parts, accessories, car racks, helmets, clothing and shoes, as well as top-notch fitting and tune-up services
Their mission: To help people get the most out of their cycling experience
Interesting facts: Cranky's is an authorized Giant, Electra, Trek and Salsa bicycle dealer, making them unique in St. Albert
John F. Kennedy once said, "Nothing compares to the simple pleasure of riding a bike." It's a modest sentiment but one that resonates with bike enthusiasts of all ages and abilities. That passion is something Andrew and Angela Phelps of Cranky's Bike Shop know a thing or two about.
"For a lot of people it goes back to being a kid and a bike is your first real feeling of freedom," says Phelps. "That feeling, I think, gets people hooked." And he should know. The 42-year-old St. Albert native has been reading biking magazines for as long as he can remember and bike racing since he was a teenager. In 2001, Phelps and his wife Angela turned his lifelong dream into a reality when they opened Cranky's Bike Shop. Today it is triple its original size and a cornerstone of downtown St. Albert. But that's not quite where their story begins.
In 1998 Phelps earned his bicycle mechanics certification from Oregon's United Bicycle Institute and, shortly thereafter, started Cranky's Bike Repair out of his garage. "We [Angela and I] started assembling bikes for Canadian Tire stores, which got our foot in the door with some suppliers. We grew that business and got to the point where we were ready to do our own thing—I've always wanted to have my own shop, so it just seemed like the next step," Phelps explains. Shifting gears and undergoing expansions in 2008 and 2013, Cranky's made room for a larger service department, as well as added clothing and accessory sections. "We try to have a little bit of something for everyone. We want to outfit the entire family, regardless of what style of riding they [family members] are into," Phelps says.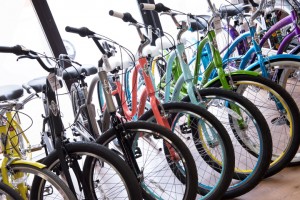 For those who feel hopelessly lost when it comes to cycling lingo, where all things bike-related are "whatchamacallits" or "thingamabobs," Cranky's provides expert guidance. "We really aim to focus on creating a low-pressure atmosphere where the emphasis is on giving customers as much information as possible so they can get the most out of their bike and riding experience," Phelps explains. "There's a lot of tech with the bikes, so providing an atmosphere that is friendly ultimately makes it easier for people to get into the sport."
Whether sponsoring various events around St. Albert or organizing one of Cranky's Road Club rides, community involvement is a top priority for Phelps. "We do things like our free bike parking at the farmers' market throughout the summer, as well as the big Canada Day event downtown. The whole idea is to encourage people to ride their bikes in the city instead of driving," he says. "For community cycling-related events like the St. Albert Kids of Steel Triathlon, for example, we provide bike checks and bike servicing—I find the more we do for the community, the more that brings back to us as well."
Passing on his expertise and love of the sport, Phelps' daughters, Emma (20 years old) and Abbey (18 years old), also help out at the store. And that's no surprise. "What we do is fun! It's just cool to be around people who are excited to get into the sport…to be part of the community you grew up in and to be able to give back is really rewarding." With an attitude like that, you can't help but enjoy the ride. t8n
Did You Know?
Cycling is just for the spring and summer months, right? Think again. Fatbikes, or bikes with oversized tires, are designed specifically for riding on unstable terrain, such as snow. Bike trainers also make it possible to train indoors during the cold winter months.