Quiltessentials
at a Glance
Location: 100 Mckenney
Avenue, St. Albert
Owners: Ingrid Machtemes
What you'll discover:
fabric, notions, classes, community
Her Passion: Unlocking creativity and using it to make a difference
interesting fact:
The building is a former gas station that Machtemes converted into a quilter's paradise
Think quilting is only for "certain types?" Ingrid Machtemes, the creative force behind Quiltessentials, disagrees. And she's not just guessing. Her customers include students, -professionals, couples, grandparents and, yes, men. Machtemes also doesn't buy into quilting as boring. Neither will you after setting foot inside the colourful world she's created. But before stepping too far in, take a look up. You'll see a quote on her store wall that says, "Only she who attempts the absurd can achieve the impossible." After you meet Machtemes and her staff, you too will be convinced that no project's impossible.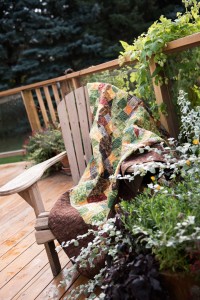 We had the pleasure of chatting with Machtemes on one of the very last days of summer. As you're about to discover, we left all fired up and raring to sew. Take a look.
"I don't think there's a thing I do without creativity." That attitude is the creative spark behind everything that Machtemes brings to life. And it's an accomplished list. On it is having owned a pottery studio for 22 years. As satisfying as that was, she kept coming back to quilting because it connected her to more people. And that's an important part of Machtemes' life: "Sharing is a gift to others, but it gives back, too." It's a philosophy she applies to sharing knowledge, too. "Technology makes creativity more fun, interesting and easier." Machtemes tries new tools and ideas so that she can let her customers know if things work. "Just because quilting is a traditional art doesn't mean we can't change how we do it. We lead busy lives, so if you can feed the creativity you need, but in a way that gives you time to enjoy the process, that's a good thing."
Not surprisingly, Machtemes surrounds herself with creative people. All her employees, including her son who works at the store part-time, are dedicated to sharing their knowledge with customers. Machtemes, who believes that everyone can learn to be creative if it's nurtured, wants customers to enjoy the creative process when they visit. So whether you're popping in to pick up a few more spools of thread or are visiting to begin a new project, her staff is
there to help at every stage. Classes and workshops are also offered to give beginners and experienced hands a chance to try new techniques and technologies. "We work with every level of experience," says Machtemes. "It's our job to help make it work." In the process, they build relationships that spread into the community.
Even as Machtemes creates a community within her store, she and her staff never lose sight of the community outside our city. She regularly donates materials to quilting and charity groups in the Edmonton area, which allows her to connect those who create with those in need. During our visit, she recalled a story of an elementary class that wanted to give a quilt to an eight-year-old classmate who had just lost both his parents. Machtemes made some calls, and the community quickly found a solution to make sure he would get his quilt. The staff at Quiltessentials are told these personal stories often, usually when customers come looking for material for a special project. "We need to be creative, live life and make a difference. At the end of the day, I know that what I do has touched somebody and made someone happy," says Machtemes. To that we say, way to sew.   t8n
You can't be creative in a box, so having a chance to share is a good way to nurture creativity.
–Ingrid Machtemes
It's sharing our work as a community that makes us feel good.