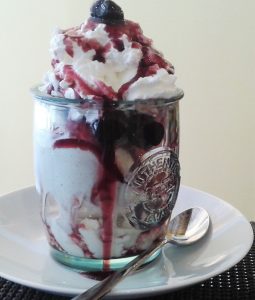 When Yvonne Irnich, owner of DaVinci Gelato, was younger she learned how to make the Italian frozen treat in Germany from an Italian gelato maker. Yvonne points out, "At that time, many Italians were immigrating to Germany and bringing their gelato recipes with them." When she and her family moved to St. Albert, they discovered that Canada barely knew what gelato was and that the café culture was quite fast paced. Then tragedy struck when her husband's construction business burned down. From this tragedy, however, a phoenix of an idea rose from the ashes.
Yvonne wanted to make gelato because she saw a market for it in this burgeoning artisan society. The St. Albert Farmers' Market was fast approaching, and she felt that would be the best way to get her new business out into the public's mind and mouths. Her husband Johannes built her a food truck, since he was in the construction trade. She was able to find the correct gelato machine and sugar, she experimented with flavours and used her friends and family as a tasting panel. Everything fell into place, and she was ready to start her new venture. She expanded the business by approaching Famoso to find out if it was interested in her gelato for its menu and she sent samples. Famoso tested it out in six of its restaurants, and now her business supplies the chain across Canada, and other restaurants soon followed.
The salted caramel, lemon and pistachio flavours are exploding with flavour and are so light you can eat a whole pint. Yvonne also started to experiment with blending alcohol in her gelato. She explains, "Alcohol and gelato are nothing new in Europe, but in North America it's taking awhile to catch on. I've done a margarita gelato for a restaurant, I've done some wine gelato for a wine tasting and the peach chardonnay flavour went really well. And they all have real alcohol—no artificial flavourings." She's also experimenting with vegan gelato by using soy and almond milk; she says it's taken a few adjustments in the gelato recipe to get the right taste and consistency. DaVinci has had great success with the vegan dark chocolate flavour.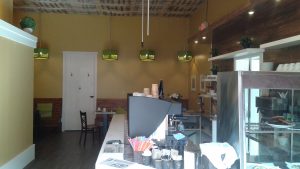 The success of DaVinci Gelato has taken Yvonne and Johannes by surprise. And when they felt they could handle more stress in their lives, they bought the empty garage space right next door to their gelato-kitchen so they could turn it into a European-style café. Johannes renovated everything in two weeks, even built the benches, tables and counters. They recycled coffee sacks and nailed them to the ceiling, the lamp shades over the tables are old milk crates, and the counters are made from the left over timber they had after they rebuilt their original German house in St. Albert. And the ambiance is that of a European café: a comfortable, take-your-time, watch-the-world-go-by pace. If you want to sit there all day with your gelato, one of their sandwiches, coffee or pastries, no one will try to hurry you—just come to 12b Rayborn Crescent for that time out you crave. Oh! And if you cycle in you get a discount.