WilliamRae Designs at a Glance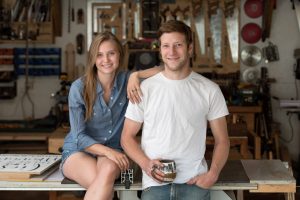 Owners: Courtney Hanak and Fraser Allan
Location: Etsy, St. Albert Farmers' Market, local craft fairs
Specialty: Handcrafted wood signs and custom-made furniture
Interesting Fact: WilliamRae combines Fraser's and Courtney's middle names
If you've ever stressed over finding the perfect gift or spent countless weekends searching for just the right piece of furniture, you'll definitely appreciate WilliamRae Designs. Its creators, Morinville-based couple Courtney Hanak and Fraser Allan, specialize in handcrafting rustic, wooden signs and building high-quality custom furniture for throngs of local customers (inter-national ones, too).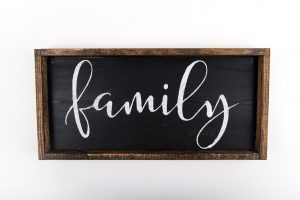 Though Hanak and Allan officially launched WilliamRae Designs in 2014, the endeavour began about two years prior as a DIY project. As Hanak explains, "It all started because we needed a new bed." "I did carpentry in university," says Allan, "so I figured I could build it. I just found some crates, and made us a bed out of them."
To their surprise, it wasn't long before word got out about Allan's creation. "Someone asked me to make a bed for them. Then someone else asked for a table. Then it was a dresser. It spiralled from there," he explains. "Pretty soon I had three or four months of back orders. When I started with the first bed, I was borrowing power tools from a buddy. I slowly built up a shop and got everything I needed."
Around the same time, Hanak was about to go on maternity leave with the couple's daughter (who is now two) and took the opportunity to explore her own creativity. "Fraser taught me a lot about woodworking," says Hanak. "I've always been crafty. We went from doing just furniture, to adding home décor, to focusing on the signs."
Fast-forward to today, and business is booming. Fraser has left his job as a drafting technologist to work in the business full time, and Hanak never returned to her administrative job after her maternity leave. "It was a mixture of terror and relief to leave my job," says Allan, "but my passion had shifted." Hanak adds, "We don't know why the business took off like it did. We didn't set out for it. We've grown so fast over the last year, we have to lean our bikes on the wall outside the shop because there is no more room."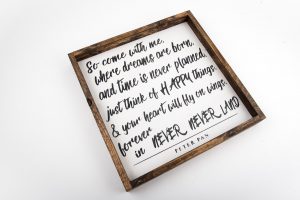 According to Hanak, their handmade signs make up 80 to 90 percent of their business today—they produce about 100 per week. The signs, which Hanak designs in Adobe Illustrator and frames with pine wood, feature funny quotes, song lyrics, inspirational phrases and the like. "Quotations and words are very important. They are powerful. One time I saw a lady burst into tears after seeing one of my signs at the farmers' market. It was a song lyric. Later her friend came back and bought it for her."
Hanak and Fraser sell their signs online in their Etsy shop, at the St. Albert Farmers' Market in the summer and fall and at craft markets in St. Albert and Edmonton throughout the year. The pair also takes custom furniture orders through WilliamRae Designs' Facebook page and by email. "We've even had people order stuff through Etsy or at the market and then come to our house in Morinville to pick it up… It means a lot when they can see they've gotten something unique with that handmade touch to it." says Hanak.
With creations from WilliamRae Designs cropping up in homes all over St. Albert, it's safe to say that when it comes to this creative couple, all signs point to success. Check them out, and say hi. t8n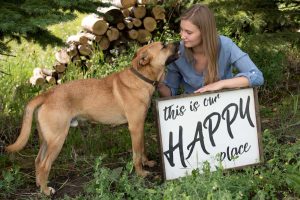 Fun Fact
WilliamRae Designs signs range from $15 (for a print) up to $110 (for their largest sign). Furniture prices range as well. Benches start at $200, coffee tables around $250 and kitchen tables sell for around $900.
The most expensive piece they've created was a kitchen table made from exotic wood, which sold for about $2000.
What Do WilliamRae Design's Top-Selling Signs Say?
"Some of My Best Friends Have Never Said a Word to Me."
(Written in the silhouette of a dog).
"It is our choices, Harry, that show us who we really are, far more than our abilities."
– Dumbledore in Harry Potter and the Chamber of Secrets