Botanic Park at a Glance
Location: 265 Sturgeon Road
Caretakers: Society of Friends of the St. Albert Public Gardens is a not-for-profit organization that oversees the development of the park and manages its operation.
Fun Facts: One of the founding members, John Beedle, still comes to the work parties every Tuesday and Friday mornings. He just celebrated his 90th birthday.
The land in and around the park used to be farmland belonging to the Atkinsons. A replica birdhouse of their farmhouse now sits where the building originally stood.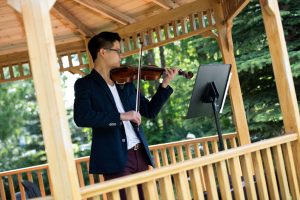 As our days grow busier and our lives move faster to keep up, finding time to stop and just breathe for a moment is becoming harder to do—almost a luxury. We've come to believe that "to get away from it all" we have to drive or fly hours away from the city. Well, luckily for us, St. Albert already has this getaway, and you don't need to get on a plane to experience it. Tucked in between Sturgeon Road and the Sturgeon River, you'll find a little oasis being cared for by about 50 volunteers. This narrow-spaced gem inspires calmness and reflection and provides a deep satisfaction to those volunteers who know they've done a good day's work. It's for everyone to enjoy, and it's called the St. Albert Botanic Park. Take a look.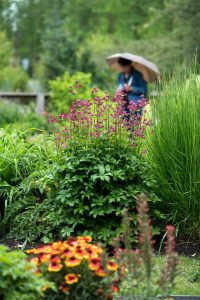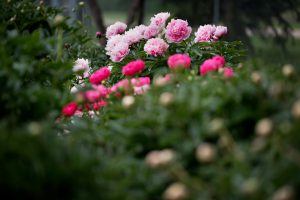 The Botanic Park may take up only five acres, but it's five acres well used. In 1990, former St. Albert Mayor Richard Plain and retired city landscaper John Beedle decided that the city should have a botanic park that not only looked pretty but also served a practical purpose—to show people what types of plants will survive and thrive in Alberta. In 1992, the groundbreaking ceremony occurred, marking the first of many shovels to turn over the earth in the park. Botanic Park Vice-president Patricia Bell says, "Our mantra from the beginning has been to show people what will grow in our climate [Zone 3], including the plants not specific to this zone." Park members have a row in the Trial Garden, where they have to try at least three new plants every year to see what will grow here. The volunteers and members make up the ground force to get the garden beds ready for spring growing and keep the park well tended all year.
Like many botanic gardens, St. Albert's is a beacon for weddings and the photo shoots that capture them. The park offers rentals for small wedding ceremonies and time slots for wedding photos. If you want professional photographs taken at the park, book early as time slots go quickly. The John Beedle Centre, which was named after one of the founding members, is also available to rent for a variety of occasions, such as conferences, meetings and small parties. Beyond renting time to use the park, you can also take gardening classes in May or sign your kids up for the "Little Sprouts Program," which offers Grade 1 students an inspired introduction to the world of gardening.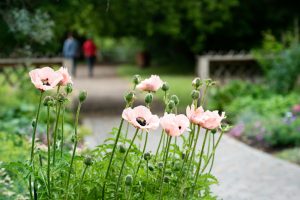 Not sure you'll fit in? Well, be sure of this: the park is for everyone. So whether you're wanting a quiet place to sit and watch the world go by or looking for your next gardening project, the Botanic Park has a place for you. You can pretty much wander anywhere you like, too. But Bell says they may be putting up a small fence around the water feature, which has been getting some unwanted climbing attention. If you want to volunteer but have no gardening experience, that doesn't matter, either. You can receive your gardening education while mucking around at the twice-weekly, morning work parties. Park volunteers can also lend their carpentry skills, sales and admin skills—or even help host the park's special events. As Bell says, "If you want to volunteer at the park, we'll find an area to suit you. Because like everyone who visits the garden, we want you to enjoy your time here and feel welcome." t8n
"Some of our volunteers have never gardened before but have a desire to see what gardening is like. Those who have years of gardening experience help out those who want to learn."
–Patricia Bell, Vice-president of the St. Albert Botanic Park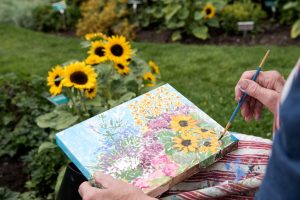 Five Acres of Wow
There are, technically, 19 different areas in the park that highlight groupings of plants and/or types of gardens. A few favourites are the roses, dahlias, lilacs, lilies, peonies, shade garden, cottage garden and xeriscape garden. There are brochures in the gift shop to help you identify each area.
"People can also bring in their gardening questions. Even if there's no one at the park that day who knows the answer, there's always a volunteer or member we can contact to find the answer. If it's a rose-related question, we have a brochure in the gift shop that has lots of information."
—Patricia Bell, Vice-president of the St. Albert Botanic Park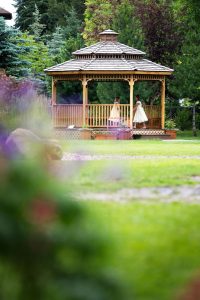 Did You Know?
Every year before the snow melts, the park receives about 800 bare-root roses. The volunteers carefully pot them and wait until they can be planted in the rose garden or sold at the Mother's Day Rose Sale Weekend.