When your backyard is 1800 hectares of trails, wetlands and history, escaping the city is a walk in the park. For residents of St. Albert, that escape is Lois Hole Centennial Provincial Park. Established in 2005, the park—named in honour of our 15th Lieutenant Governor—preserves Big Lake, a freshwater wetland ecosystem. Never been? There's no time like the present. Getting there is as easy as accessing the boardwalk off Riel Drive or following the Red Willow Trail west along the south bank. A viewing platform, boardwalk and interpretive centre all await your arrival.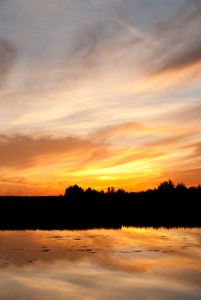 Need more inspiration? We've got it covered. From the shorelines and boardwalks to the sunset over Big Lake, this is the view from Lois Hole Centennial Provincial Park. Take a look.
Connected to the park along Big Lake's eastern shoreline is the John E. Poole Wetland, an interpretive site dedicated to conserving Canada's wetlands. Doubling as an education destination, the area provides a critical habitat for thousands of migrating and nesting shorebirds and waterfowl. But our amazing wetlands don't just provide for wildlife. They work hard for us too, storing twice the carbon found in the tropical forests of the world, while occupying only six percent of the earth's land surface.
When you visit the interpretive site, be sure to bring your binoculars and walking shoes. There are more than 350 metres of boardwalk to explore and a viewing platform with a bird's-eye view.
Like all great visits that end, a goodbye at Big Lake gives pause for gratitude. To stand on the shore at sunset is a reminder of that. And it's with that feeling that conservation begins. It may seem like a small thing, but feeling that you're part of something bigger—something you want to experience again and share with others—is an important part of the conservation equation. In recognizing the hard work of others, you not only help bring change, you help sustain it. To discover more ways to make a difference, visit AlbertaParks.ca or www.ducks.org. t8n
Discovering Big Lake
Big Lake makes up 59% of the park's total area and is
8 km long and 3 km wide at its widest point.
It sits on the sand and gravel of the Empress Formation,
an aquifer 30 m below its surface that was laid down by retreating glacial meltwater.
More than 235 bird species have been recorded at
Big Lake, including trumpeter swans, peregrine falcons,
short-eared owls and bald eagles.
It is globally recognized as one of the 20 most important habitat areas in Alberta.
"If we hope to preserve our way of life, the first thing
we must do is rediscover our respect for the land, the water and the entire natural world. And if we do manage to regain that respect, then we must make sure that human beings never lose it again."
— Lois Hole