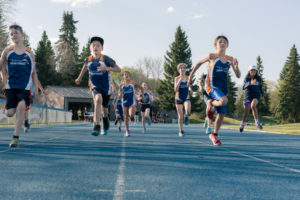 Summer's underway, and for some, this means outdoor training is back for the St. Albert Mustangs Track and Field Club. For head coach Amy Millar that means a renewed emphasis on athletes' development, as well as fostering a strong team atmosphere.
"It really is athletes first," says Millar. "Investing in our athletes to build strong athlete-coach relationships is a true strength of our program.
A pediatric physiotherapist, Millar has been involved in track and field since she was 12 years old. Something about it hooked her early on. "I love that the sport is so diverse, that you can run or throw or jump," she says. "It's the basis of a lot of other sports." Throughout high school, and as a student at the University of Alberta, Millar competed in high jump and triple jump—and was part of Team Alberta at the Canada Summer Games—before injuries sidelined her.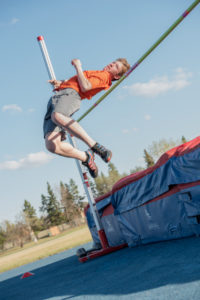 Not to be deterred, Millar jumped into coaching, a choice that went full tilt when another coach asked for her help at what was then called the St. Albert Track and Field Club. She's been with the club ever since—which now sports "Mustangs" in the name—with the exception of two years off to pursue her graduate degree in physiotherapy. Three years ago she took over as head coach, a role that involves not only coaching, but also supporting other coaches to develop their skills, as well as working with board members and acting as the public face of the club.
Over the years, Millar has seen the Mustangs grow and improve. When she first came on the scene, there were fewer athletes in the club and most of them were juniors. "We used to lose a lot of kids to Edmonton," she notes. There were also fewer coaches, with just herself and a distance-running coach on board. Bringing in more coaches, those who share an athletes-first coaching philosophy, has helped provide more structure. "We're seeing the benefits of it now," Millar explains. "Our numbers are up significantly [the Junior Development program now keeps a waitlist], and we're seeing more kids stick around into the senior development portion." Of the nearly 60 athletes at the club, about 20 of them are older teens and young adults in the Peak Performance program, the most Millar has seen during her time with the Mustangs.
But success is more than just numbers. Millar cites the strength of training in their programs, which cover sprinting, jumping and distance running in equal measure – in short, their strengths now fall across the board.
"Depending on your coaching staff, you may be really strong in your sprinters or your jumpers, but we're developing in a lot of different areas," notes Millar, adding that seeing kids fall in love with the sport and develop as athletes the way she did is a perk.
Millar credits the support of the coaching staff, as well as past and present board members. She also notes parental involvement is up, with parents pitching in as volunteers to help with track meets and fundraisers, as well as tidying up the shed at Fowler Park on weekends. The time and hard work that Millar and others have invested are paying off, not only with their athletes, but also in the club's growing sense of community. "It's nice to see that the Mustangs are on the rise," she says. We might say it's heading there in leaps and bounds.
Mustangs at a Glance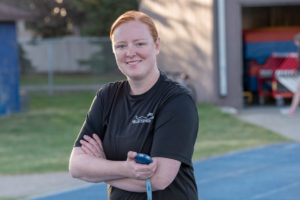 Location Training is mainly at Fowler Athletic Park
Founded In 1980, as the St. Albert Track and Field Club
Programs Junior Development for athletes up to age 13; Peak Performance for athletes ages 14 and over; Cross Country program that runs through the fall
Fun Fact The Junior Development program follows the Athletics Canada Run Jump Throw Wheel program that teaches fundamental movement skills (including wheeling for kids in wheelchairs) and allows children to experience a variety of track and field events. t8n
Track and Field at the Ancient Olympics
At the earliest Olympics, the only event was the stadion, a running race of just under 200 m. Longer races were gradually added until the 18th Olympiad in 708 B.C., when the pentathlon appeared, which involved running, jumping, throwing, and wrestling. Interesting how this idea has endured through the ages, with the modern-day concept replacing wrestling with wheeling in Athletics Canada's Run Jump Throw Wheel program.