Update – February 3, 2019 – Sadly, Juntos has closed their doors.
It might be something of an irony that many diners are looking for a taste of home when they go out to eat. Or maybe we just crave the essence of a homemade meal, without the hassle of cooking or cleaning up. Either way, Sylvia Mickanuik has been giving diners what they want since opening Juntos Bistro in early 2016.
The Campbell Park restaurant is all about home-style meals made with locally sourced ingredients, and a gander at the menu reveals a lot of old-fashioned soup-and-sandwich comfort.
"What we're doing," says Mickanuik, "is going back 25 or 30 years to good ol' home cooking."

Sylvia's daughter Taylor
That, and carving out a place at the table in St. Albert's food scene in the process.
As for the name's unusual, capitalization-rules-be-darned spelling, Mickanuik explains that the "N" and "R" stand for "New Revolution." For her, it's about a larger move toward healthier meal preparation across the food industry. Yet some of the revolution at Juntos might also be a personal one, too. After all, it wasn't so long ago that Mickanuik had both feet in the corporate world, working as a service support specialist for Xerox. After taking time off a few years ago to step back and re-evaluate, she decided food was more her thing. Though she didn't have formal training, she did have a lifelong passion for food, as well as experience working with caterers. She first launched Up-Town Catering here in St. Albert and operated out of a community hall. Before long Mickanuik realized she needed her own kitchen space, and Juntos was the result.
Like the menu, the philosophy at Juntos stresses simplicity and transparency.
"It's all about food with integrity and a conscience," Mickanuik says. "That pretty much sums it up. Real food, cooked the way it's supposed to be."
Everything's made in-house, and vegetarian or gluten-free options are available for those customers who want it. Mickanuik estimates about 85 to 90 per cent of the menu can be done gluten-free.
Of course, it's a common mantra these days for restaurants to tout the old-fashioned TLC that they put into their meal preparation. But being a single location, and a family-run business at that, perhaps it's easier for Mickanuik and her staff to deliver on this notion.
"We're just a mom-and-pop business, and we get our stuff local," she says. "We pretty much hand-pick all of our produce and a lot of our meats."
The restaurant forgoes large distributors like Sysco and gets a lot of its food from local Hutterites—and as much as it's possible in Alberta, buys food when it's in season.
Those who appreciate this homestyle approach will be pleased to know that Mickanuik is still in the catering business. The difference is that now she can do it out of her kitchen at Juntos. Because a lot of their catering is destined for local businesses, they can get it prepped, wrapped, and ready to go by 11 am—just in time for the lunch crowd to come streaming in. In this regard, locating the restaurant in Campbell Park was a shrewd business move. As Mickanuik puts it, "There were 225 businesses in the area, and only a Tim Horton's and a donair shop. I thought a mom-and-pop, soup-and-sandwich-type shop would be a good idea."
Indeed, the move seems to have paid off, and business has grown in the past couple of years, so much so that Mickanuik can plot out other ways to grow. A recent new offering is takeaway dinners—ready-to-eat meals for two to three adults that can be picked up in the afternoon and reheated later. She's also considering meals specifically for seniors.
"I think you have to change," Mickanuik says. "Basically, I want to try it all—some of it will work, some of it won't."
As her experience shows, it's a lesson that applies as much to life as it does to business. t8n
DID YOU KNOW?
In 2017 there were 10,900 restaurants, bars, and caterers in Alberta, contributing 3.6% of the province's GDP and directly employing 148,700 people. Every day in Alberta sees 2.5 million visits to restaurants.
restaurantscanada.org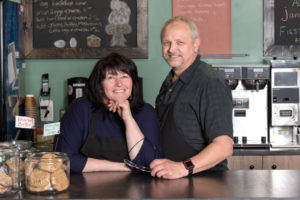 Juntos Bistro at a Glance
Location: 101, 125 Carleton Drive
Owner/Operator: Sylvia Mickanuik
Specialties: Breakfast and lunch (onsite and catered)
Top Seller: French Onion Grilled Cheese Sandwich
Fun Fact: The name is inspired by the Spanish word juntos, meaning "together."