Summer may not have arrived just yet, but that doesn't mean you can't enjoy some freshly grown, local herbs while you wait for the last of the snow to melt. West Country Herbs, a service run by Morinville Greenhouses, keeps production of herbs and salad greens going all year long, hydroponically, so that their customers don't have to wait for a bright summer day to cook with fresh greens. Of course, something like this doesn't come from out of nowhere—it's very much a community effort. West Country Herbs supports the local community, and the local community supports them in turn. To fully appreciate the novelty of having fresh, local ingredients available year-round, it's helpful to know how West Country Herbs got started, who they are and where they're going in the future. Take a look.
West Country Herbs first got off the ground in 2007, but the story of Morinville Greenhouses actually goes back a bit further than that. The business was founded in 1974 by Elise and Jim Marles, the parents of current greenhouse manager, Greg Marles. Both were employed in the city, Elise as a waitress and Jim as a plumber, but they quit their jobs and moved into the country, as Greg puts it, "To build a different life for themselves." Part of this different life focused on building strong business ties within the community.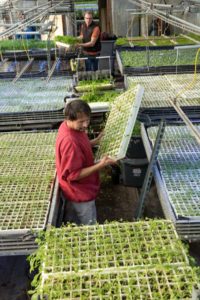 Greg has carried on their tradition, and West Country Herbs is an extension of that same philosophy. In the last decade, the demand for fresh, local ingredients has skyrocketed, and according to Greg, he was well positioned to meet the demand.
"We just saw a niche to fill," he says.
Words like "fresh," "local" and "organic" have become marketing buzzwords but for Greg and his parents, they have long been a way of life. "The smaller size of my parents' business meant that they couldn't meet the needs of large buyers, and that automatically put the focus on community," Greg says.
"Today we exclusively supply to smaller, independent retailers. Places like the Italian Centre, Sunterra and Mercato in St. Albert."
Since herbs like basil don't last very long in transport, Greg has to make same-day deliveries as soon as the crops are harvested. As it turns out, though, this is exactly what the market has grown to expect in the era of locally-sourced ingredients.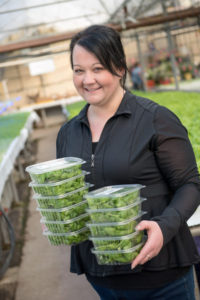 Whether you want to call it serendipity, or excellent market-trend analysis, West Country Herbs already had the infrastructure in place to meet the demands of an increasingly inquisitive consumer base.
"Locally-sourced foods are becoming so important to people," Greg says. "People want to know where their food comes from and how it was grown. And it's nice for me to be able to say that I grew it myself, and explain exactly what the procedure was."
As tastes and trends shift, the conversations Greg has with his customers allow him to make changes quickly. "People are always looking to try new ingredients, some of which might not traditionally be available in Canada," he explains, "but growing with hydroponics in short cycles means that we can experiment with lots of different kinds of products."
While some people might be tired of words like "local" appearing on every product they see, the heightened taste and quality of local organics is undeniable. It's comforting, too, to know that West Country Herbs was there long before "local" started trending, and that they were experts in their field while the rest of us were still figuring it all out.