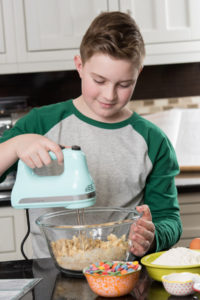 This simplified take on a kid-favourite foregoes traditional circles for a fluffy pan cookie that's equal parts colourful, soft, and oh-so-tasty.
1 cup butter, softened
¾ cup sugar
¾ cup brown sugar
1 ½ tsp vanilla
2 eggs, room temperature
2 ¼ cups flour
1 tsp baking soda
1 tsp salt
1 Tbsp milk powder
2 cups colourful candies (Smarties or M&M's)
Preheat the oven to 375°F. Line a 9 x 13-inch pan with parchment paper. (You can spritz cooking spray over any areas not covered by parchment.)
Cream together the butter, sugars, and vanilla. Mix in the eggs one at a time.
Combine the flour, baking soda, salt and milk powder in a separate bowl. Add to the butter mixture and stir to just combine. Stir in the candies.
Press mixture into the prepared pan and bake for 20–25 minutes, or until a skewer inserted into the middle comes out clean.
Let the pan cool for at least 30 minutes before cutting. You can leave the pan to cool on the counter, or pop it into the fridge—this will make the bars much easier to cut.
Tip! When adding eggs to other ingredients, crack each one into a separate dish first. This way, if a bad egg or a piece of shell falls in, you won't contaminate the batter. t8n