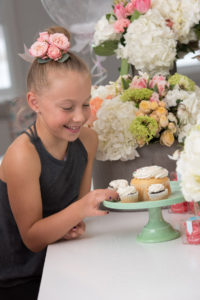 There's something about flowers that speaks to our appreciation for the here and now. Their immediacy and beauty can add meaning to a moment, and few life events are marked without the giving or receiving of them. Not that that's anything new, of course. People have been expressing their feelings with flowers for thousands of years. Even the ancient Egyptians decorated banquet tables and honoured their dead with lotus blossoms. Nowadays, there seems to be a flower (or several) for every occasion, no matter what time of year it is.
No one knows that better than floral artist Justine ­Melnychuk.
"Flowers have this power to tap into our ­nostalgia and our love of nature. People are drawn to them for a reason."
Recently, Melnychuk gave us a peek behind the scenes at Swish Flowers, sharing what it is that draws her—and so many others—to things that bloom. Take a look.
Melnychuk has been with Swish almost from the beginning. Joining the staff in 2005, the year after the original Terwillegar location opened, she continued as a part-timer while completing her university education. Later, she returned to help Swish expand to Sherwood
Park and St. Albert, becoming the company's "Director of Flow" in the process. The unusual job title refers to the fact that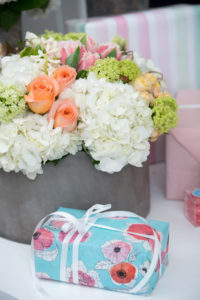 Melnychuk sees to a bit of everything, from the back end to the front. That includes the hard work that goes into processing and maintaining flowers. "It's a very physical job," she says. "There's always so much to do when you're dealing with something that's living and fresh and needs your constant attention."
One of Melnychuk's many jobs is designing arrangements for events. The process starts with a face-to-face consultation, which gives her a sense of a client's aesthetic and inspirations. From there she comes up with a design that is practical and also respects the client's vision.
"You're kind of like a curator," she says. "You edit other people's ideas so that those ideas become realistic. But you also want to honour their vision."
From consultation to design to delivery and set-up, the time frame can vary greatly, from half a year for some weddings to only a couple of weeks for a funeral.
When it comes to smaller, individual creations, the process and attention to detail are much the same. Everything is made to order, whether it's a bouquet for a friend or a flower crown for a dog. Still, some basic ideas have proven to be hits, such as the "fishbowl" arrangements that the Swish staff came up with a few years ago. Flowers were encased inside clear glass bowls, turning the typical vase arrangement inside-out. "From every angle it's beautiful, like a jewel you can set on a table or counter," says Melnychuk of the popular arrangements.
Like any other creative field, floral design sees trends come and go. Currently, greenery is very much in style, with designers using fewer flowers and more shrubs and ferns. Ultimately though, one can't just chase trends. As Melnychuk puts it,
"You have to be able to trust your instinct if you think something is beautiful and timeless."
And what does Melnychuk think is beautiful and timeless? The answer changes frequently: "Whatever's the freshest, whatever's in season," she says, using summer-blooming burgundy dahlias as an example. "When it's here you love it, and then it's gone and you wait till next year when it's back again."
Perhaps it's that fleeting quality of flowers that makes them the perfect symbol for commemorating the constant change in our own lives. As Melnychuk puts it, "The most beautiful things in life sometimes are that bliss or that moment of perfection which is the flower bloom… That's what makes them special. You just get a moment with them." t8n
Special thanks to Sarasota Homes and our lovely models.