Fill. Refill. Recycle.
A local low-waste outlet adds a new dynamic to the eco-friendly retail market
Joy Stein's mother used to call her a "hippie girl" because of her passion for the environment and justice throughout her teen years. After reaching adulthood and finishing school, Stein found a way to put that passion into action.
"I realized that finding time and energy to be in the know about important causes, researching the latest sustainability initiatives, and understanding the complexity of the climate crisis while still living your life can be a difficult balance," she says.
Stein came up with an idea to "simplify" that balancing act with a one-stop shop where customers could find curated, locally made, natural, and sustainable quality goods, while creating a community for people to share their experiences. That notion morphed into Simplify Sustainable Living, a low-waste, refillable operation in St. Albert that sells such products as laundry strips, deodorant, wood and bamboo handle dish brushes, and hand and dish soap refills.
Predominantly local suppliers also stock the shop's shelves with several eco-friendly products as well as unusual items like booty and bust planters from St. Albert-based Greyshed, reusable giftwrap by Edmonton crafts company ReWrapt, and reusable nursing pads from Rewind Reusables, another Edmonton eco-friendly business. But Stein says one particular product tends to raise a lot of eyebrows.
"The item we get the most questions about is our armpit tool, which is used in the shower with soap to remove excess deodorant or buildup and is made with copper so it's also good for lymphatic movement," she says.
The store's choice of wares emphasizes Alberta-made, natural and sustainable products. But the real attraction to its environmentally mindful clientele is its refillery section. There, customers bring their own containers or purchase them from the store. The staff then weights the jar and fills it to the desired amount. Prices are based per gram or per 100 grams, based on the product.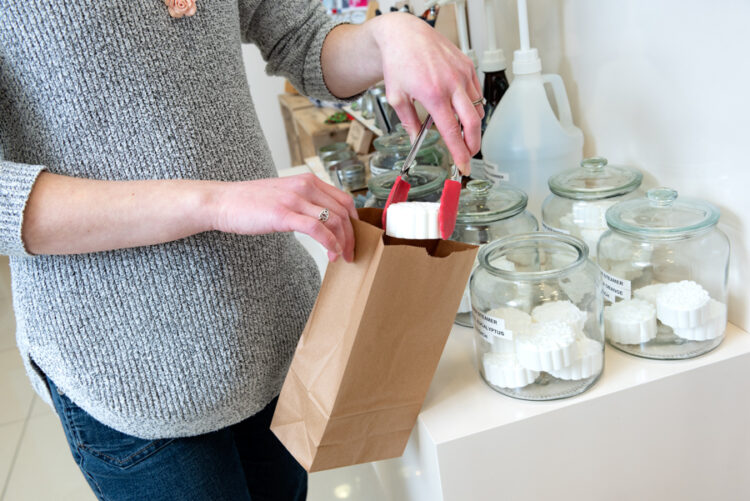 It's a far cry from what Simplify Sustainable Living resembled more than two years earlier. When the business started in February, 2020, it merely existed in blog form until she noticed a dramatic shift in the eco-friendly retail market. "The shop was only a dream at that point," says Stein, who wasn't planning to open up a brick-and-mortar shop for at least a couple of years. "But during the pandemic I kept seeing more and more refilleries opening up. I knew if I waited, I'd miss my chance."
Nine months of scrambling later, Stein opened the shop's doors that November in time for the holiday season. But with economic sustainability top of mind, Stein, her husband, and mother continued working their full-time jobs during the week and operating the shop during the weekends until the business had enough support to run independently.
Stein describes her company's clientele as diverse, including young students, new couples who just landed their first homes, parents opting for a natural and waste-free abode, and seniors who grew up with mason jars and paper bags and view the shop as a reminder of simpler times.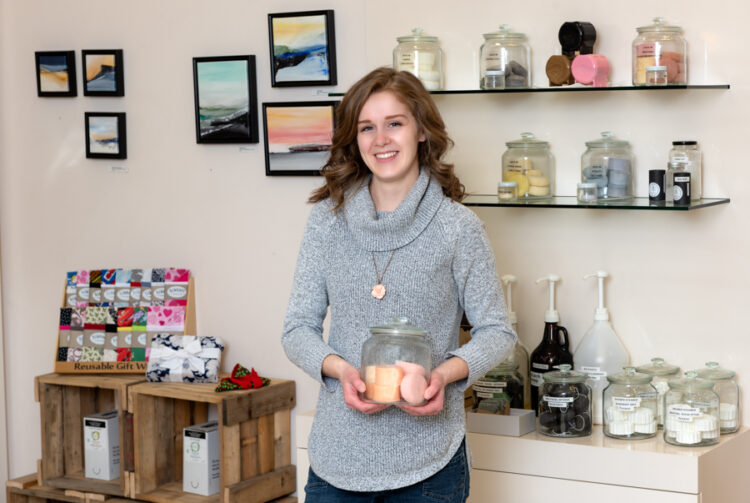 "We see folks who live in the country surrounding St. Albert, St. Albert residents, and lots of folks from north Edmonton," she adds. "Some shop in store and some prefer to shop online. At the moment we offer in-store pickup or local delivery in the Edmonton area."
One of her customers lives off the grid in the country, relying on a wood stove and geothermal energy in her family's home. "She shared that when the power goes out for their neighbours, which is common enough in the country. Often their neighbours come to them with their half-cooked dinner because their electricity is more reliable."
While Simplify Sustainable Living has enabled Stein to harness all that youthful "hippie girl" passion in an outlet that provides eco-friendly solutions to willing consumers and helps put food on her family's table, she's also learned a lot from networking with folks in an environmentally-conscious market.
"Alberta has such a wealth of local and sustainably-minded makers and businesses," she says. "I am so grateful to be part of such an amazing community and every time I chat with my makers I learn more that I'm able to share with my customers and change in my own life. We all come from different experiences and it's such a gift to be able to come together and learn from each other." t8n
Website: www.simplifyliving.ca
Address: St. Albert Centre,
#300, 375 St. Albert Trail
Email: [email protected]
Hours: Thursdays & Fridays: 10 a.m. – 8 p.m.
Saturdays: 10 a.m. – 6 p.m.
Sundays: 11 a.m. – 5 p.m.
Facebook: @simplifysustainableliving