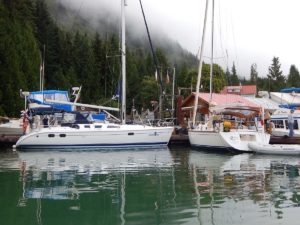 Sometimes, the urge to go where the wind takes us is too much to ignore. So much so, in this case, that we bought a boat and decided to sail up the coast of Vancouver Island to explore the isolated but intriguing Broughton Archipelago. Only a small percentage of Pacific Northwest boaters ever head north of the Salish Sea—and my sailing partner Leslie and I were determined to be among them.
It was the end of July last summer when we slipped our 38-foot sailboat Never for Ever into the crowded anchorage of Squirrel Cove at the north end of the Georgia Strait. Squirrel Cove lies just south of a set of tidal rapids that create a physical and psychological barrier between the Broughtons and the southern cruising grounds. Though Broughton Archipelago proper is the collection of islands across the Queen Charlotte Strait from Port McNeill, the area generally encompasses everything between Desolation Sound and the northern tip of Vancouver Island. It's home to few full-time residents, but it houses stunning scenery, incredible wildlife, amazing culture, and the most fascinating collection of marinas and resorts. There must have been a hundred boats there when we arrived, but we would soon be leaving them all behind.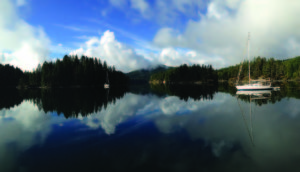 The next morning, we transited some intimidating tidal rapids and continued up Johnstone Strait, eager to head full-tilt into our adventure. Dropping our sails just off East Cracroft Island, we tied up at Port Harvey. This is the traditional first stop for cruisers headed to the Broughtons or Alaska. Owned and operated by a couple of Alberta expatriates, Port Harvey Marine Resort features docks and a small floating general store and restaurant. That evening, we joined some fellow cruisers for fresh-made pizzas, and put in our order for the next morning's fresh-baked cinnamon buns.
Cinnamon buns happily consumed, we waved our goodbyes and cast off to negotiate Chatham Channel. In just a few hours, we pulled into our next stop, Lagoon Cove. The marina was hosting a prawn potluck that night, so we rummaged through our galley for something to contribute (a tomato salad with onions, garlic, olive oil, and fresh basil) and headed up the docks.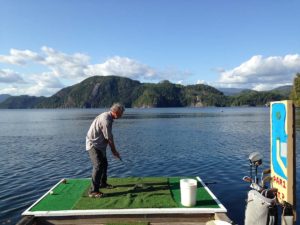 One of the joys of the Broughtons are the little resorts that host nightly potlucks or happy hours, and running into same boaters again and again, making friendships that often last a lifetime. During our three-week trip, we sailed to Pierre's at Echo Bay for their Saturday night pig roast, spent a few nights at Sullivan Bay for fresh-baked Danishes, and stopped at Shawl Bay (sadly, now closed) for their traditional pancake breakfast.
We like to spend only a night or two at a marina, topping up batteries and water before setting out for one of the hundreds of isolated anchorages scattered throughout the archipelago. One of our favourites is Lady Boot Cove, named for its shape (and its serene beauty is breathtaking). While there we took our dinghy to nearby Insect Island, landed on an ancient midden beach, and hiked through the light-dappled forest. We discovered First Nations' culturally modified cedar trees, traces of old logging operations, and met up with some kayakers.
One thing all Broughton visitors do is compare notes on wildlife because the entire area is a guaranteed wildlife-spotting extravaganza. We'd already seen several pods of orca whales and a few humpbacks. And by the end of the trip, we had added a pair of black bears hunting for shellfish on the rocky beaches, a huge pod of dolphins, a colony of sea lions, and eagles and osprey hunting for their dinners.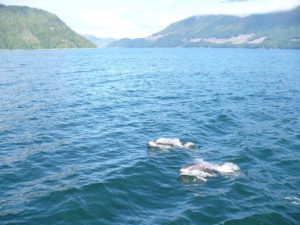 In fact, one of the highlights occurred as we were approaching Pierre's at Echo Bay. Glancing to my right, I was just in time to spot a humpback whale surfacing less than a hundred feet off our starboard side. I grabbed my camera and even managed to video a few moments before he raised his mighty tail and dived deep.
Finally, we sailed into Port McNeill to gather provisions for the trip home. But first, we decided to catch the ferry to Alert Bay and see the totem poles at 'Namgis Original Burial Ground and visit the nearby U'mista Cultural Centre. The museum houses repatriated Kwakwaka'wakw regalia confiscated by the Canadian government early in the 20th century when potlatches were banned. The visit was a world-class experience.
And with that, our adventure came to an end—well, almost. As we left, we were thrilled to be escorted down Johnstone Strait by three Pacific white-sided dolphins riding in our bow wake for over an hour. Occasionally, one would roll on its side and wink at us—knowing that the hidden magic of this place is now something we share.  t8n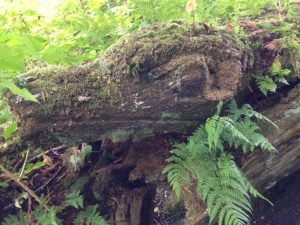 Got Boat?
If you don't own a boat, bareboat and captained charters are a good option, and many outfits offer a selection of powerboats and sailboats. To name a few: Nanaimo Yacht Charters and Sailing School in Nanaimo (nanaimoyachtcharters.com), Desolation Sound Yacht Charters in Comox (desolationsoundyachtcharters.com), and Cooper Boating in Vancouver, Sidney and Powell River (cooperboating.com).
Cultural Highlights
Midden Beaches Centuries-old white-shell beaches that contain archeological artifacts. They were formed by First Nations' shellfish harvesting and are found throughout the Broughtons.
Village Island An abandoned village in Johnstone Strait (central coast region) featuring the remains of long houses, totem poles, and a beautiful midden beach.
U'mista Cultural Centre A museum and extensive art gallery, that offers tours, presentations by dance troupes, and a gift shop. It also supports researchers and hosts international scholars.
'Namgis Original Burial Ground Century-old burial ground dotted with traditional memorial totem poles featuring the work of some of the best carvers in the area.
Notable Resorts
Every resort claims its own specialties, and cruisers have their favourites, but they're all worth a visit.
Pierre's at Echo Bay Get there in time for their famous Pig Roast on Saturday evenings, or the BBQ Prime Rib roast on Mondays and Thursdays. pierresbay.com
Sullivan Bay Marina Enjoy fresh Danishes every morning and play their celebrated one-hole golf course. sullivanbaymarina.com
Port Harvey Marine Resort Boasts a wood-fired pizza oven and home-made cinnamon buns each morning. portharvey.blogspot.ca
Lagoon Cove Marina Renowned for good hiking and fresh prawns each evening at happy hour.
lagooncovemarina.com
Kwatsi Bay Browse their gift store filled with local artists' work, and enjoy daily potlucks on the dock. kwatsibay.com
Jennis Bay Marina A quiet, out-of-the-way marina and resort. Oh, and it's breathtaking.
jennisbay.com
Nimmo Bay Resort This luxury resort features a spa, fine dining, and adventure tourism.  nimmobay.com