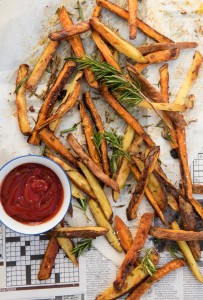 The name alone should tell you these fries are delicious. Salty and sweet with a perfect kick of mustard—pour a glass of red, and call it dinner.
1 large unpeeled sweet potato, sliced into wedges or fries
5 large unpeeled potatoes, sliced into wedges or fries
6 tbsp olive oil
2 tbsp mustard
2 tbsp chopped rosemary
3 cloves garlic, minced
2 tsp sea salt
2 tsp freshly cracked pepper
Preheat your oven to 350˚F.
Mix together the olive oil, mustard, rosemary, garlic, salt and pepper in a large mixing bowl.
Add the sliced potatoes, and toss until coated.
Spill the potatoes out onto a parchment-lined baking sheet, and distribute them into an even layer.
Bake them in the preheated oven for about 40 minutes (a smidge longer if they're cut thicker). Just keep an eye on them after the 40-minute mark—the sugar in the sweet potatoes will start to burn.