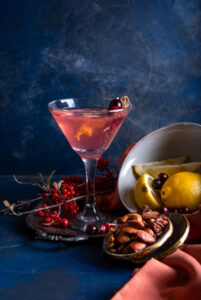 Dive into your freezer and pull out all the frozen rhubarb left from the summer harvest. Combine that with a holiday star, cranberries, and you are on your way to a fun, sparkling drink.
2 oz. pink gin from Confluence Distillery
1 ½ oz. rhubarb and cranberry simple syrup (recipe below)
1 tsp. lemon juice
3 oz. club soda  
In a cocktail shaker filled with ice, add in the gin, the simple syrup, lemon juice and club soda. Give it a good shake and pour into a cocktail glass. Garnish with a lemon curl and some cranberries!
–
Non-alcoholic switch-up
2 oz. Grove 42 Seedlip
1 tsp. lemon juice
1 ½ oz. rhubarb and cranberry simple syrup
3 ½ oz. club soda
Follow the same steps as above.
–
Rhubarb-Cranberry simple syrup
1 c. sugar
1 c. water
3 c. chopped frozen rhubarb
½ c. whole, fresh cranberries
In a saucepan, on medium-low, dissolve the sugar in the water. Add in the rhubarb and cranberries and simmer for 10 minutes. Let cool, strain into a jar and refrigerate the simple syrup for up to two weeks.