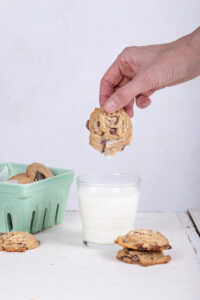 These yum cookies can be made all in one bowl using a whisk and a wooden spoon! If you're feeling like comfort in a few tasty bites, whip these up and enjoy with your favourite warm beverage. 
1 c. unsalted butter, melted and slightly cooled
1½ c. brown sugar
½ c. white sugar
2 room temperature eggs
1 tsp. vanilla extract
2 ½ c. all purpose flour
1 tsp. baking powder
½ tsp. kosher salt
1 c. milk chocolate chips
1 c. semi-sweet chocolate chips
1 tbsp. Maldon sea salt
Preheat oven to 375ºF. Line two sheets with parchment paper or a silicone baking mat, then set aside.
In a large bowl, whisk together the butter and the two types of sugar until well combined. Add the eggs and the vanilla extract and whisk the mixture together. 
Remove the whisk, add the flour, baking powder and salt. With a fork, give these three ingredients a quick mix on the top. Now using a wooden spoon, incorporate the flour mix into the egg mixture. It takes a bit of muscle but you've got this! 
Once most of the flour mix is combined, add in the chocolate chips and do a final stir.
Using a cookie scoop, scoop out the dough onto the prepared baking sheet. Top each dough ball with a sprinkle of Maldon sea salt.
Bake for 10-12 minutes until golden brown at the edges. Cool slightly and enjoy!