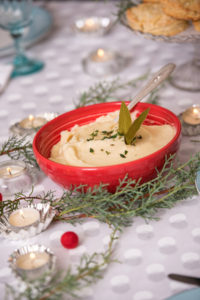 Naturally sweet and not-too-starchy, these pureed parsnips whip smooth enough to rival mashed potatoes.
2 lbs parsnips, peeled and chopped

4 sprigs fresh thyme, plus extra for garnish

1 bay leaf

1 ½ Tbsp butter

⅛

cup whipping cream

salt and pepper to taste
Bring a pot of lightly salted water to a boil. Add the parsnips, thyme, and bay leaf and cook for about 15 minutes, or until the parsnips are tender. Drain and discard the thyme and bay leaf.
Transfer the parsnips to a food processor. Add the butter and cream, and puree until smooth. Season with salt and pepper to taste. Serve warm with fresh chopped thyme.