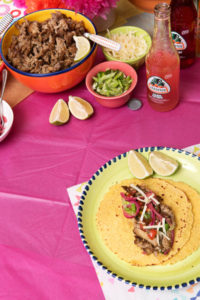 Aside from the juicy deliciousness of each bite, these sweet and spicy carnitas free up your time to prepare side dishes as the pork caramelizes in the oven.
3 lb or 1.5 kg of pork shoulder or butt
2 oranges, halved and juiced
3 limes, halved and juiced
4 whole garlic cloves, crushed
4 tsp kosher salt
2 tsp pepper
2 tsp chili powder
1 tsp ground coriander
12 corn or flour tortillas for serving
Preheat the oven to 275°F. In a deep roasting pan, combine the orange juice, lime juice, and the whole garlic cloves.
Give the mixture a stir and set aside.
Cut the pork shoulder into roughly 4 equal pieces. In a bowl, combine the salt, pepper, chili powder, and ground coriander seed. Generously rub each piece of pork with the spice rub, and place in the roasting pan.
Cover the pan tightly with foil and slowly cook for 2–2 ½ hours. Remove from the oven and shred the pork in the pan, discarding any bones. Turn up the oven to 425°F. Put the shredded pork back in to crisp the edges of the meat—about 15–30 minutes.
Heat corn or flour tortillas in a skillet for 30 seconds on each side to slightly char the edges. Or wrap a stack of tortillas in foil and heat them up in the oven. Fill the tortillas with pork and top with your favourite fixings.