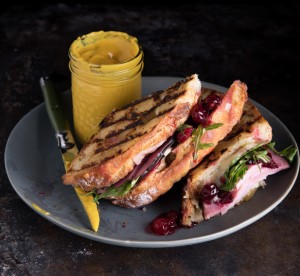 There's nothing boring about this ham sandwich. Tangy cranberries, creamy fontina and homemade potato bread, buttered and grilled to perfection.
2 slices potato bread (see recipe)
2 tbsp butter
1/4 cup cranberry sauce (or fig preserves)
Mustard, to taste
Sliced (or grated) fontina cheese
Thickly sliced ham
Baby arugula leaves
Butter the bread slices as you would for a grilled-cheese sandwich, and assemble your sandwich so that the ham and arugula are in the middle, and the cranberries, mustard and cheese are closest to the bread. Grill the sandwich over medium-high heat in a panini pan or an ordinary skillet until the bread is crusty and golden and the cheese is hot and melted. Slice on a diagonal, and devour.