Beautiful coconut cake with a mango-infused whipped cream topping will satisfy both a tea time hankering and elevate dessert time offerings. Serve with fresh mango slices for the win!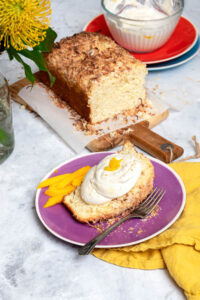 ½ c. unsalted butter, room temperature

1 c. granulated sugar

¼ c. melted virgin coconut oil

3 large eggs

¾ c. sour cream

½ c. coconut milk

2 c. all-purpose flour

2 tsp. baking powder

½ tsp. kosher salt

1 ½ c. toasted, sweetened flaked coconut
INSTRUCTIONS
Preheat the oven to 350°F. Spray an 8½ x 4½-inch loaf pan with cooking spray. Line with a piece of parchment, leaving an overhang on the long sides of the pan. This sling will help lift the loaf out of the pan for cooling. Set aside.

Mix the sour cream and coconut milk together and set aside. 

In the bowl of a stand mixer, cream together the butter and sugar for approximately three minutes until pale and fluffy. Add the eggs one at a time, scraping the sides of the bowl after each addition.

Add in half of the sour cream and coconut milk mixture, mixing lightly. Add in the dry ingredients and mix on low until mostly incorporated.  Add in the rest of the sour cream mixture and mix to combine. 

Remove the bowl from the stand mixer and stir in one cup of the toasted coconut.

Pour the batter into the prepared loaf pan. Smooth the top with an offset spatula and sprinkle the rest of the toasted coconut on the top. Tap the pan a couple of times on the counter to release any air bubbles.

Bake for one hour to one hour and 15 minutes. The loaf should be golden brown and spring back when pressed.

Let the loaf cool in the pan for 30 minutes. Finish cooling completely on a rack. 
–
Mango Whipping Cream
1 c. whipping cream pureé 1 mango




(about ½ c. if using frozen mango)

1 tsp. granulated sugar
A stand mixer or a hand mixer can be used to whip the cream.

In a cold bowl with high sides, add in the cream and the sugar. Start to mix on low, increasing the speed to medium. Whip the mixture for about five to six minutes until the path of the whisks in the whipping cream remain and when lifted out of the mixture,

the cream holds a peak.

Gently fold in the mango pureé. Cover and refrigerate until ready to use.