When only peanut butter will do, reach for one of these.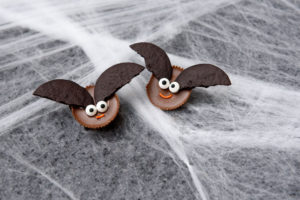 Halloween-sized peanut butter cups
Chocolate wafer cookies (for wings)
White frosting (for adhesive)
Candy sugar eyes
Cylinder-shaped sprinkles (for mouths)
Place a peanut butter cup on a work surface in front of you. Next, take a chocolate wafer cookie and snap it in half to create 2 wings. Use a little frosting to "glue" the wings in place (see image); then add the candy eyes and mouth. Repeat!