For journeyman bakers Marcel and Bruce Hooimeyer, Grandin Bakery isn't just their bread and butter; it's a way of life. And one where working with dough is the best possible job. Brothers and best friends, these fourth generation bakers passionately work through the nights to ensure their shelves are chock full of the fresh favourites St. Albert and area residents have grown up to expect. While you may be one of the many who keep finding themselves on the doorstep of this destination store, it's difficult to pinpoint the exact ingredients that make this bakery so special. Could it be the traditional methods and old family recipes? Or maybe it's that no peanuts or tree nuts are used in anything they bake in-store? Could it be the incredible range of products or ability to custom order? Or is it, quite simply, the enthusiasm and passion of everyone on staff? Whatever it is, Grandin truly bakes the world a better place. Take a look.
Grandin Bakery at a Glance
Location: #12, 11 Bellerose Drive, St. Albert
Owners: Brothers Marcel and Bruce Hooimeyer, along with their spouses Michelle and Maryke, respectively
Their passion: Feeding families, pure and simple
What's baking: Everything from bread, bagels and croissants to pastries, cakes and cookies
Interesting facts: Grandin Bakery supplied all the cookies for the 1983 Edmonton Summer Universiade (World University Games). Today, all their baked goods are peanut-free and tree nut-free.
"Bruce and I produce everything—we're at the store no later than 10 o'clock most nights, working straight through until about 9 o'clock in the morning," laughs Marcel warmly. "We open at 7 [a.m.], and things have to be ready. It's so engrained in me, but I love it."
Marcel, along with Bruce's wife, Maryke, also look after administrative duties, such as accounts receivable and payable, scheduling and payroll, while Michelle takes care of the advertising and hiring. "Maryke and I are primarily stay-at-home moms, but we come in and help out—it's truly a family business," says Michelle.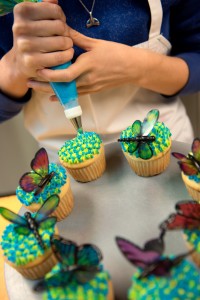 Also pulling double duty is Bruce. He's in charge of production and ensures that the brothers are baking the right product for the season and in the right amounts. Rounding out this family affair are Marcel and Bruce's other three siblings, who have all worked in the bakery at some point. But it's not just the family pitching in. The bakery is also home to sixteen full and part-time staff, including two highly skilled cake decorators, one person dedicated to garnishing the much-loved cookies and a variety of friendly people ready to help customers, among other things.
For the Hooimeyers, baking is in the blood. Martin, Bruce and Marcel's 76-year-old dad, grew up in Holland helping his father and grandfather bake at a small storefront attached to the family's house. Martin, the youngest of 12 siblings, moved to Canada in 1960 after receiving formal training in baking—coincidentally around the same time the bakery was first established in St. Albert's Grandin Mall. In 1976, Martin purchased Grandin Bakery, and in 1992 made the decision to move the beloved store to its current location.
"When Dad first opened, the focus was basically being the bakery for the grocery store, which meant bread, bread and more bread," recalls Marcel. "When the store moved, my dad no longer had a formal lease agreement that prevented a grocery store from having their own in-store bakery. So the focus went more into goodies, treats and cakes." "People still love our bread," adds Michelle, "we just don't necessarily do the same quantity." Today, cakes make up the biggest percentage of Grandin's sales, proving to this family that you really can have your cake and eat it too.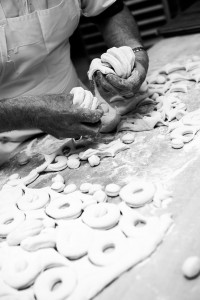 "Our decorators are passionate about what they do. We give them free rein when it comes to colours and designs—but they also get inspiration from customers to come up with something fantastic."
–Michelle Hooimeyer
So what's next? "More of the same," says Michelle. Although the family may consider expanding at some point in the future, it's nothing they're looking at now. Because, really, why tamper with a winning recipe? From the staff who've called the bakery home for decades to the residents whose first stop of the day is a quaint gem in the corner of Inglewood Town Centre, tradition means everything. After all, under Hooimeyer ownership, the bakery's been a St. Albert staple for nearly 40 years! Even in retirement, Martin still enjoys baking alongside his sons a few days a week. But the Hooimeyers aren't the only ones enjoying a generational experience. Kids with cherished memories of visiting the store to pick out a special goodie—as if made just for them—are now sharing those special visits with children of their own. That truly makes this business a family affair.
They say nothing says home like the smell of baking. Well—welcome to Grandin Bakery. Welcome home.
"When Bruce and I are at the store in the middle of the night and there are no phones ringing, no computers to check, no questions to answer and there's just working with the dough… That's what I love the most."