hillaby's
at a Glance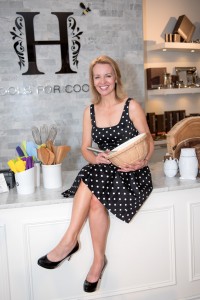 Owned by: Lynn Hillaby
Location: The Enjoy Centre, St. Albert
Their specialty: Quality cookware that makes cooking fun
Their mission: To get people back into the kitchen Interesting facts: Among the international goods Lynn carries is a great selection of charcuterie boards, rolling pins and aprons made by local artisans. She also has a gift registry.
Remember when cooking with fresh ingredients was part of our daily schedule and the kitchen actually was the heart of the home? Lynn Hillaby does. She's the owner of Hillaby's Tools for Cooks, a store inspired by the connections people make around the table and the "tools" that bring them together.
No flash-in-the-pan hobbyist, Hillaby has always gravitated towards cooking. "I did a lot of travelling, and every country that I ended up in and every city that I spent time in, I always ended up in a kitchen store," recalls Hillaby happily. The result was overweight bags filled with tagines from Morocco, copper cookware from France and glassware from the Czech Republic. Today, Hillaby no longer has to risk breaking her treasures on their journey home—instead, she imports them for all of us to enjoy.
Cookware isn't the only thing that Hillaby has relocated to St. Albert. After spending several years away, she decided to return to the city where she was raised to open her store. "St. Albert is home, it's comfortable and it's a good place to do business," says Hillaby. Besides the familiar comforts, she chose St. Albert and the Enjoy Centre because she likes the idea of her store being part of the Enjoy Centre's healthy concept and greenhouse setting. "It's easy to come to work every morning, even in the depths of winter."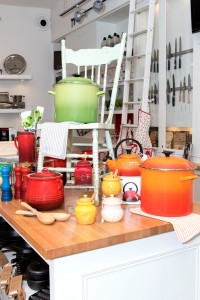 Also easy is Hillaby's philosophy to making cooking pleasurable: have a well-stocked kitchen. Good tools let you focus on good ingredients that you love without worrying about how you'll put them together. Hillaby's advice is to keep food simple and not to be intimidated. To help us do that, she keeps her bright and cheerful store stocked with tools that range from the essential to the fanciful.
Even cooks with well-equipped kitchens will find new items within the eclectic mix of beautiful copper, colourful cast iron, highly polished stainless steel and rustic charcuterie boards. But, be warned: you're going to want at least one of everything. And if you can't find that perfect item? No problem, Hillaby will track it down and special order it.
That kind of customer service is a big part of Hillaby's mission. There's no being rushed through your choices. When helping create a gift registry list, for example, Hillaby says "We walk around the store together, make some decisions and I post it on the website. And people who live out of town can purchase a gift over the phone, we'll wrap it and make sure the couple gets it." You can't get that kind of service in box stores.
As you whittle down your choices, ask Hillaby for her recommendations. She wants you to be happy and to invest in quality pieces that will last a lifetime. Sometimes her search for the perfect piece takes time, but it's part of her dedication to her customers and her love of cooking—an attitude that has her customers coming back for seconds. t8n
Lynn's Picks
6 Essentials for Every Kitchen
High-quality knives (serrated, slicing and santoku)
A professional-grade, non-stick frying pan
A heavy-duty cutting board
A cast-iron cocotte for stews and soups
Basic utensils (spatula, flipper and silicon or wooden spoons)
Commercial-grade bakeware (cake pan, bread pan and muffin tin)
Did You Know?
The Enjoy Centre is also home to a restaurant, spa, liquor store, greenhouse—even event spaces.